New DisplayPort™ Alternate Mode 80Gbps UHBR cable with USB-C connector breaks new ground for high-speed video transmission performance

Granite River Labs (GRL), a global leader in engineering services and test automation solutions for digital connectivity, charging technologies, and professional market access services, and Wieson Technologies, a leading manufacturer of high-speed transmission wired and wireless interconnectivity components and automotive electronics, jointly announced the first fastest DisplayPort 80Gbps UHBR (Ultra-high Bit Rate) cable using a USB Type-C to Mini DP2.1 connector, which has obtained DP80 UHBR20 cable certification from the VESA (Video Electronics Standards Association).
Designed to accommodate the latest high-performance DisplayPort 2.1 (DP 2.1) and DisplayPort Alt Mode 2.1 (DPAM 2.1) standards, the new USB Type-C to Mini DP80 cable (Wieson MPN# AB9934-40300800-00) features an 80Gbps UHBR video transmission channel. It also supports Cable ID functionality, enabling DisplayPort Sources and Sinks to identify UHBR cables via Power Delivery eMarking at the USB Type-C end and resistor identification at the Mini DP end. This design enhances compatibility with other UHBR devices and ensures smooth data transmission without compromising performance.
Certification testing was performed at GRL's DisplayPort Authorized Test Center (ATC) in Taipei. In addition to DP40/DP80 cable and DisplayPort 2.1 UHBR device certification testing services, GRL also offers VESA ClearMR, AdaptiveSync, and DisplayHDR certification testing.
"GRL has supported the high-speed video connectivity ecosystem for over a decade, working closely with VESA to provide customers with cutting-edge engineering services and top-notch test solutions. We are firmly committed to accelerating development, simplifying manufacturing, and providing a reliable test environment for the global consumer electronics industry," said Sandy Chang, Engineering Fellow & Technical Director, GRL Taiwan. "It has been an honor to work with Wieson Technologies on testing and certifying this groundbreaking new product, which is the first and fastest DP80 UHBR cable offering USB Type-C to Mini DP connectivity."
For more than 30 years, Wieson Technologies is committed to researching and developing innovative high-frequency and high-speed transmission technologies while growing an extensive portfolio of own-brand and ODM wired and wireless types interconnectivity products and automotive electronics. Mr. Jeff Chen, CEO of WIESON Group, said: "GRL's fast, professional engineering services play an important role as we move towards our goal of being the solution provider of choice for smart application technologies."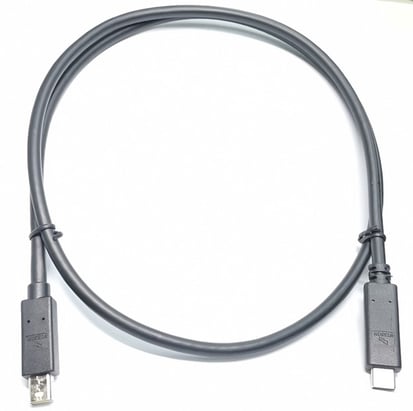 Enh DP2.1 UHBR20 (DP80) USB Type-C to mDP Alt Mode Cable, MPN#AB9934-40300800-00(From Wieson Technologies. Please contact service@wieson.com for more product information)
Please email your media inquiry to mktg@graniteriverlabs.com