An overview of VESA ClearMR certification
Who are the

Video Electronics Standards Association?
VESA is a technical standards organization for computer display standards formed by over 325 international corporate member companies. Board members develop a wide range of open-source standards for consumer electronics such as VESA ClearMR and VESA AdaptiveSync.
Why VESA ClearMR certification?
The VESA ClearMR certification logo program is designed to correct the flaws of current methods such as Motion Picture Response Time (MPRT), which are purely time-based metrics that cannot account for image enhancement and blur mitigation techniques. VESA Certified ClearMR products are meant to provide consumers with a more accurate standard of motion blur quality by limiting enhancement techniques during testing.
VESA ClearMR test process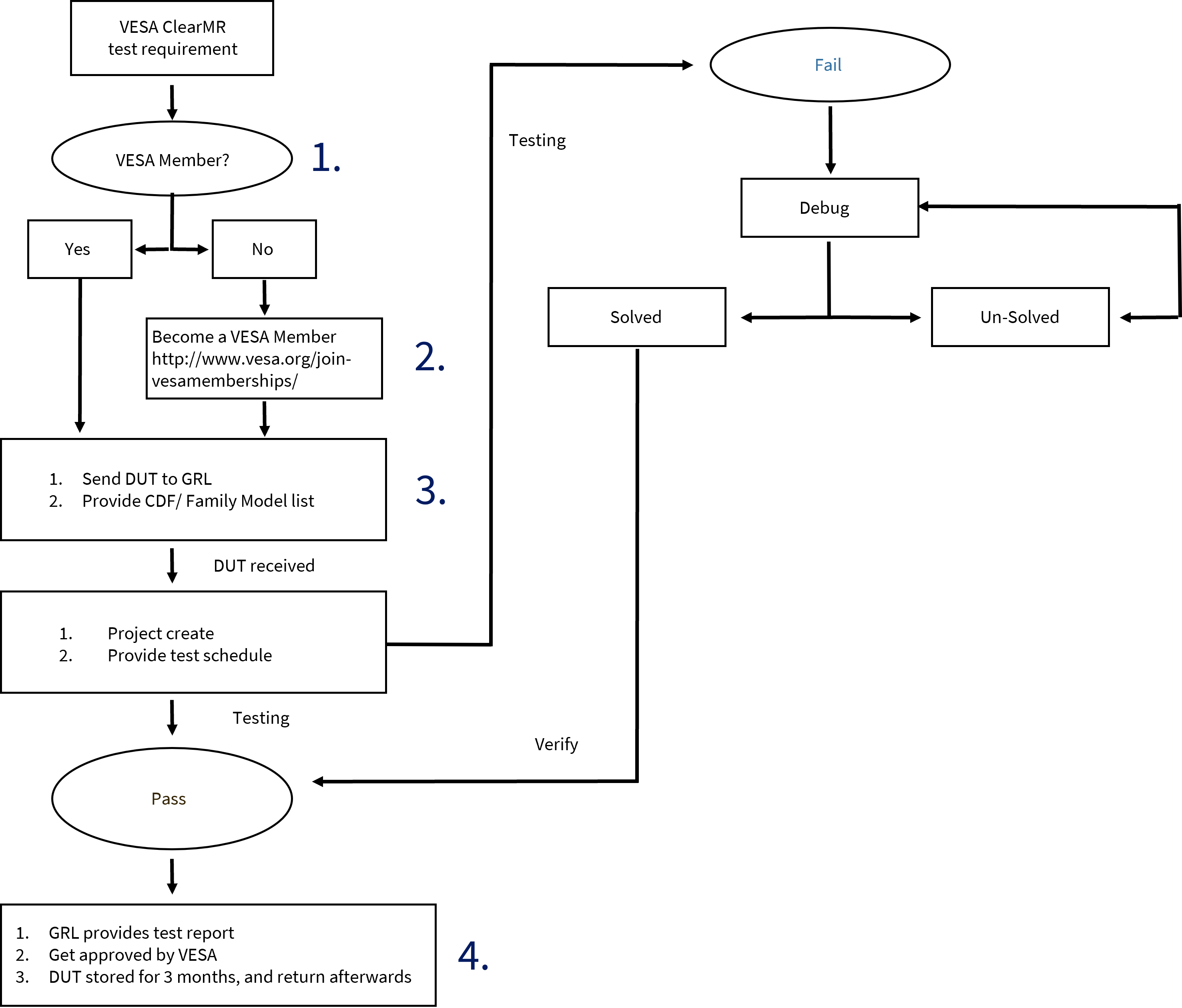 Step 1: Register for VESA membership if your company is not yet a member
Only VESA members are allowed to participate in tests under the VESA ClearMR certification program. If your organization is not included in the list of member companies, you may obtain the documents for VESA Membership & Task Group Application here.
Do confirm if you would like your company to be registered as an OEM manufacturer or branding manufacturer, as members may only sign up under one category.
Step 2: Send a Device Under Test (DUT) to us
Contact GRL's lab associates and make arrangements to send your LCD and emissive display hardware to one of GRL's VESA ATCs located at Silicon Valley, Taipei, Bangalore, Yokohama, Shanghai, Dongguan, Germany, South Korea, and Belgium.
Step 3: Fill in sample information on CDF and Family Model Form
Capability Declaration Form (CDF)
Filling in the CDF form is mandatory for testing. Details recorded on the CDF form will be compared against test results for consistency.
Do fill in the Certified Product Website Posting Information section if you would like GRL to submit a copy of your certification and pass report so that your product can be listed on VESA's official webpage once tests have concluded.
Family Model Form
Extended models do not have to be tested. To verify if models fall under the same family, fill in the Family Model application form and we will submit it to VESA on your behalf for review.
Models must fulfil the following criteria to be considered as a Family:
• No hardware changes in extended models apart from those that lend aesthetic changes, such as case design and color
• Consistent software and firmware across all extended models
• ClearMR hardware design on the extended model remains unchanged
Step 4: Test results and product listing
You will be notified of test results once testing concludes. If your product successfully passes the VESA ClearMR test, you may request to have your product listed on VESA's official webpage by forwarding the test results to moderator@vesa.org.
Alternatively, simply contact us to check on the status of your listing application if you filled in the Certified Product Website Posting Information on the CDF in Step 3.
VESA ClearMR test instruments, items, and equipment
Apart from the aforementioned test items (CMR, coefficient of variation, overdrive / undershoot, and luminance degradation), GRL labs also provides instruments for Vesa AdaptiveSync pre-tests, certification test, self-test, as well as consultancy services to prepare our clients for certification.
High-speed cameras and Konica Minolta CA-VP427 will be used to conduct the test.