DisplayPort Test
DisplayPort Test
DisplayPort (DP) interface originated from its release in mid-2006. Its interface applications are widely used in desktops, laptops, screens, adapters, and cables, and it is one of the well-known interfaces in the European and American markets. This interface is designed to replace the traditional VGA, DVI, and FPD-Link (LVDS) interfaces. The latest DisplayPort technology is DisplayPort 2.1, it can reach 20G per channel, and the resolution can reach 16K 60Hz. For more information, please refer to: https://vesa.org/
DisplayPort Official Certification: VESA
The Video Electronics Standards Association (VESA) is a non-profit organization comprised of more than 280 manufacturers of software, hardware, computers, monitors, and parts. Their main goal is to standardize digital video interface technology. In particular, this interface is exempt from paying royalties. If you want to know more about the VESA Association, please refer to: http://www.vesa.org/
VESA announces the latest version of the Specification
VESA DisplayPort (DP) Standard Version 2.1 – 10 October 2022
Certification Area
DisplayPort can be certified by product types.
Examples below
- DP 1.4
- DP 2.1
*DP40 and DP80 cables are available in both Full-Size, and Mini DisplayPort cable configurations and are fully backward compatible with devices supporting DisplayPort link rates previously defined and currently in use, including RBR (Reduced Bit Rate), HBR (High Bit Rate), HBR2, and HBR3.
* Regarding DisplayPort Alt mode (DP over USB Type-C), the full-feature USB-C cable can already support UHBR transfer rate, and the "USB Type-C to DisplayPort cable" has obtained VESA DP cable certification. In addition, the DP active cable certification program using LRD and LTTPR Re-timer will be launched soon.
Technical Resource
Application Note: DisplayPort™ 2.1 Overview
Application Note: VESA Adaptive-Sync Introduction
Webinar Presentation: DisplayPort Receiver Test & Project
DisplayPort Certification Process
DisplayPort Certification Process
Image below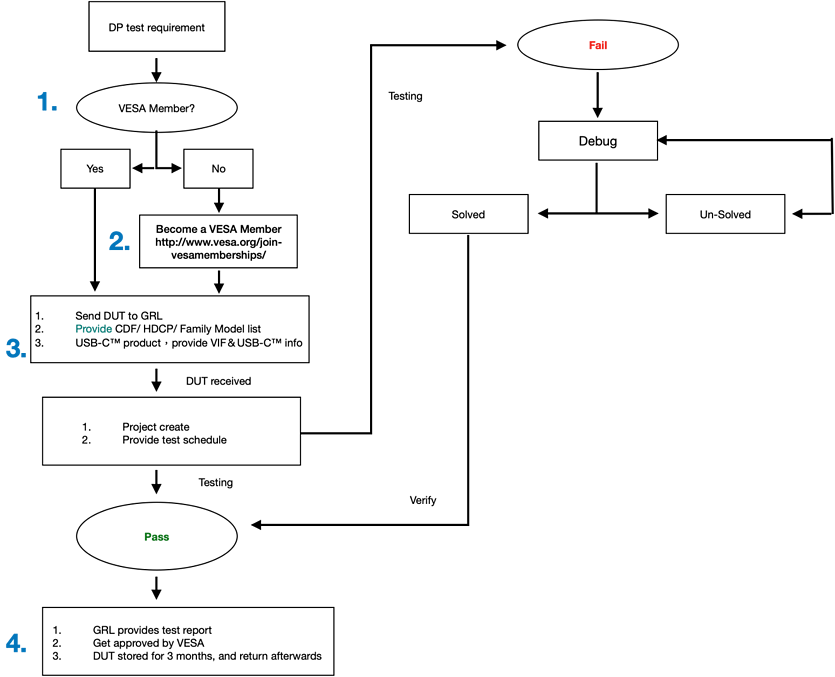 (1) Become a VESA member
Visit the association website to check whether your Company Name is an association member. 《Click here to check》
Members can be OEM or Branding manufacturers, choose one.
If not, apply for the membership at https://vesa.org/join-vesamemberships/ (Online Application)
(2) Provide sample information. What is CDF/HDCP Form/Family model list?
CDF (Capability Declaration Form):
This form will record the capabilities of your product. The standard test is in progress, and it will be confirmed whether the content you filled in and the test result are consistent. This form is necessary for testing. You need to be a member of the association to download it.
HDCP Form:
This form is optional. If your product supports HDCP1.x or HDCP2.x, you have to provide this document.
The HDCP Form can be found on the

"DCP Official Webpage".
For DisplayPort certification, HDCP2.x and HDCP1.x are optional test items, but if HDCP2.x is supported, it needs to pass the test.
Family Model list:
The main certified model is if there is an extended model (Family Model), no additional testing is required. Please provide the Family Model application form to GRL before the certification, and we will help you submit it to the Association for review,

Download the Family Model list

.


The family Model should follow the below conditions:
The extended model has no hardware changes (except for the case design, and color change)
No software & firmware changes for extended models
The DisplayPort hardware design on the extended model remains unchanged
(3) If your product has a USB Type-C® connector and it supports DP alternative mode, need to provide VIF (Vendor Information File) & USB Type-C information
VIF (Vendor Info File)
If your product has a USB-Type-C connector and supports DP alternative mode. VIF is required for testing.
VIF records the capabilities of your product PD. When testing, the standard test instrument will need to import this file to compare the actual functions of the product. This file is necessary for testing, please prepare it before sending it for testing.
The VIF Generator can be downloaded from USB-IF's website.
If the product is a USB Type-C connector, please provide information about the controller/chip used by the product. This is a necessary document for testing. <Download document>
(4) Once the product passes the test


If your product has passed the test. You will receive a confirmation email sent by GRL.
If you would like to list your product on VESA official webpage, there are two methods:
Fill out the "Certified Product Website Posting Information" in the CDF. After the product has passed the certification test in GRL, it will be submitted to the association by GRL with the Pass report.

After the product has been certified and received the Congratulation Letter Email from GRL, use this letter to reply to the association's contact person:

moderator@vesa.org

directly, indicating that the product needs to be listed on the association's website.
(If the above steps are not performed, the product will not be listed on the VESA official website)
DisplayPort Certification Test Items & Instruments Used
DisplayPort Certification Test Items
The product category can be certified by VESA and test items.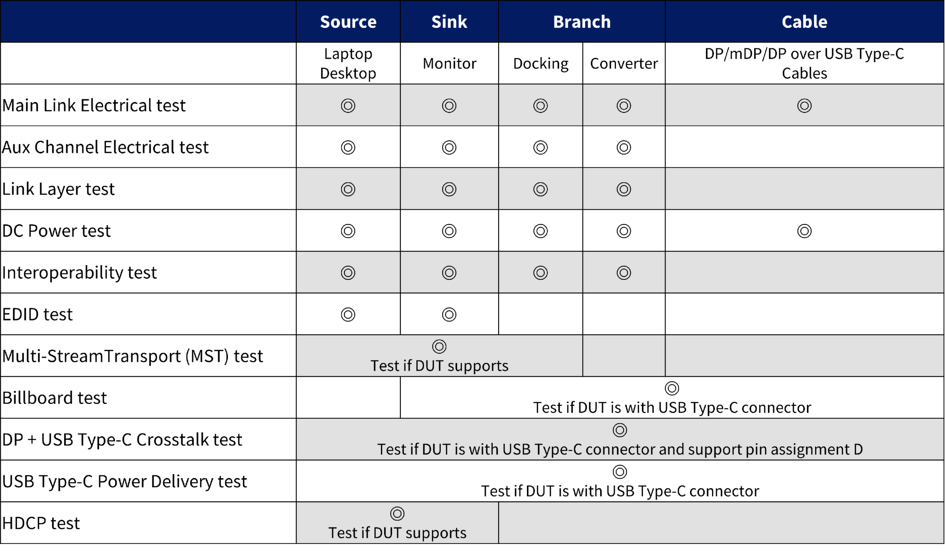 DisplayPort Certification Test Equipment
Main Link Electrical test
Keysight scope DSOV334A 33GHz
Tektronix BERTScope12500
Anritsu MP1900A
Aux Channel Electrical test
Keysight scope MSOS254A 2.5GHz
Link Layer test
Unigraf UCD-400
QuantumData 980
DC Power test
Interoperability test
Certified DisplayPort Sink and Source
EDID test
Multi-Stream Transport (MST) test
Four Dell U2417H
ST Micro Aux Monitor
Unigraf DPA-400
Billboard test
USB test tool: Command Verifier
DP+USB Crosstalk test
Keysight scope DSOV334A 33GHz
Anritsu MP1900A
Tektronix BERTScope12500 +

GRL USB-PD-C2
Power Delivery test
HDCP test
Unigraf UCD-400

QuantumData 980
USB Type-C® & USB-C® are trademarks of USB Implementers Forum.
DisplayPort & DP are trademarks of VESA.