An overview of VESA AdaptiveSync certification
Which companies are members of the Video Electronics Standards Association?
VESA is a technical computer display standards organization that develops open-source standards for consumer electronics. There are over 325 international corporate members leading the VESA Board of Directors, with more than a dozen VESA member companies including Dell, HP, Samsung, LG, and Microsoft supporting the AdaptiveSync Display CTS and logo programs specifically.
Why VESA AdaptiveSync certification?
The VESA AdaptiveSync standard was developed to distinguish laptops and PCs with the fastest refresh rates in the market with logos that prove which machines have passed the VESA AdaptiveSync Display Compliance Test Specification (AdaptiveSync Display CTS). Its two specifications, AdaptiveSync Display and MediaSync Display, set the industry standard for gaming displays and video playback displays respectively.
Complete details on Adaptive-Sync Display specifications can be found on the official AdaptiveSync website.
VESA AdaptiveSync test process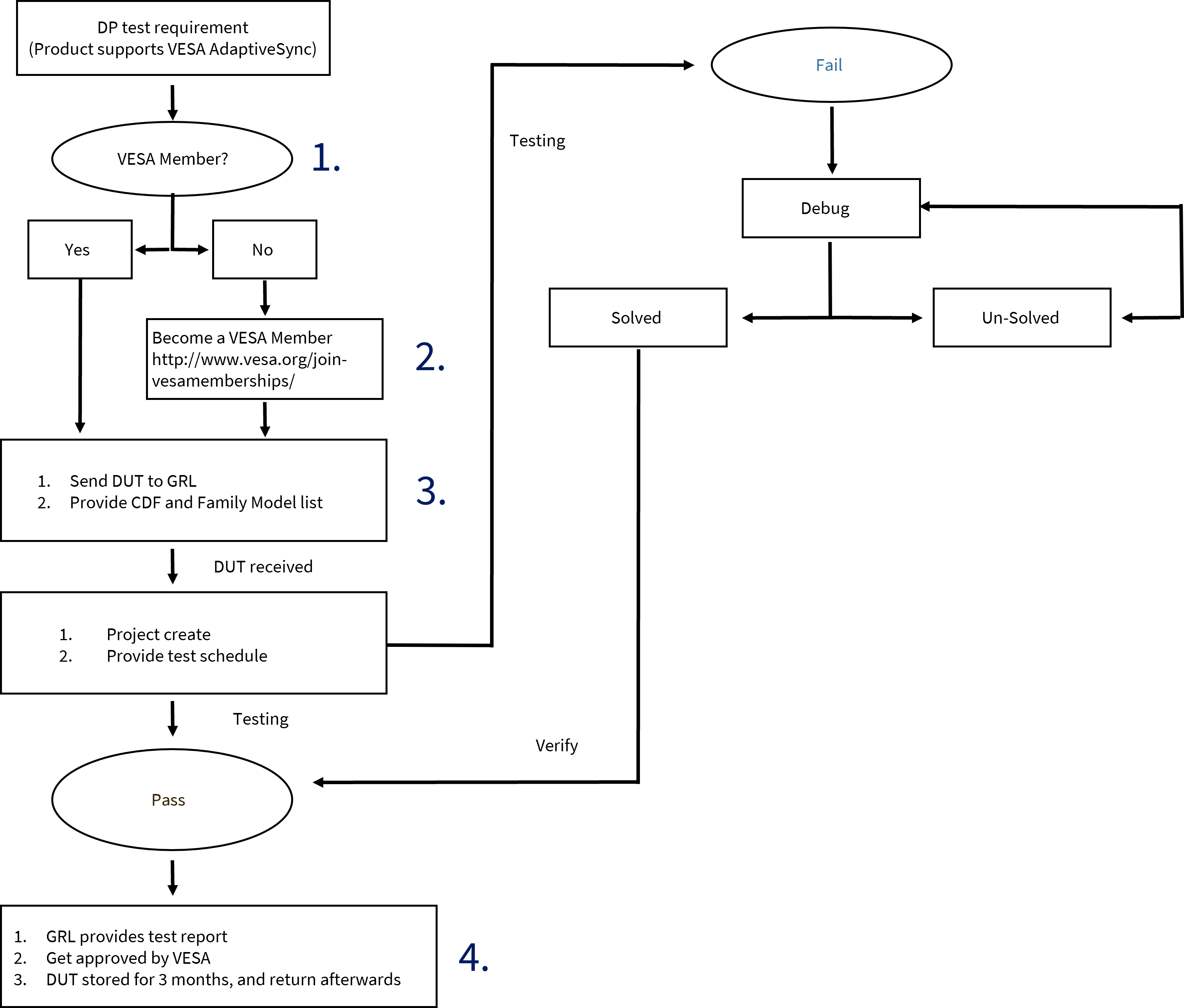 Step 1: Become a VESA member if your company has not registered
Check if your company is an existing VESA member. Majority of companies involved in the display industry should already be registered members.
Note that VESA members may only register as either an OEM manufacturer or branding manufacturer. Documents for VESA Membership & Task Group Application may be found here.
Step 2: Send a Device Under Test (DUT) to GRL
Send your DUT to one of GRL's VESA ATCs located at Silicon Valley, Taipei, Bangalore, Yokohama, Shanghai, Dongguan, Germany, South Korea, and Belgium. To kickstart the process, leave your contact details on this page and our lab associates will get in touch with you shortly.
Step 3: Provide sample information on CDF and Family Model list
Capability Declaration Form (CDF)
The CDF form records capabilities of your product and will be compared against test results for consistency.
If you would like your product to be listed on VESA's official webpage after it passes the VESA AdaptiveSync test, you may fill in the Certified Product Website Posting Information section in the CDF so that GRL may submit your pass report certification on your behalf once the test has concluded.
Family Models Form
No additional testing is required for any extended models of the main certification model. To verify if DUT models fall under the same family, fill in the Family Model application form and we will submit it to VESA on your behalf for review.
Family Models are considered as such if they fulfil the following criteria:
• Extended models have no hardware changes apart from aesthetics such as case design and color
• Software and firmware remains consistent across extended models
• AdaptiveSync hardware design on the extended model remains unchanged
Step 4: Test results and product listing
Our lab technicians will notify you of the results once test procedures have concluded. If your product successfully passes the VESA AdaptiveSync test, you may list your product on VESA's official webpage by forwarding test results from GRL to moderator@vesa.org.
Alternatively, if you filled in the Certified Product Website Posting Information on the CDF in Step 3a, you may simply contact us to check on the status of your listing application.
VESA AdaptiveSync test instruments, items, and equipment
Apart from the aforementioned test items (Frame Drop, Gray-to-Gray (G2G), HDR, Refresh Rate and Flicker, and Video Frame Rate Jitter), GRL labs also provides instruments for VESA AdaptiveSync pre-tests, certification test, self-test, as well as consultancy services to prepare our clients for certification.
GRL labs will conduct AdaptiveSync tests with the following equipment:
Dark room

Konica Minolta CA-VP427

ThorLabs PDA36A2

Oscilloscope

Digital camera