Offering outstanding performance and compatibility, the giant curved display ensures a robust, end-to-end visual experience for any gamer.
Granite River Labs (GRL), a global leader in engineering test services and automated test solutions for digital connectivity and charging technologies and professional market access services, and Samsung Electronics, a global consumer electronics pioneer, announced that Samsung's 57-inch Odyssey Neo G9 (G95NC) new status as a DisplayPort 2.1 (DP 2.1) UHBR (Ultra-high Bit Rate) certified product. Released by the Video Electronics Standards Association (VESA) in October 2022, the DP 2.1 standard supports unprecedented bandwidth to facilitate smooth gaming, efficient video playback, and greater than 8K resolution professional displays. Certification testing was performed at GRL's DisplayPort Authorized Test Center in Taipei.
The Odyssey Neo G9 8K2K monitor operates at DisplayPort UHBR13.5 link rates and features a curved, large-format display. The combination of quantum mini LED technology and VESA's DP 2.1 interface ensures superior imaging in any environment. GRL also performed UHBR certification testing on the DP 2.1 receiver scaler chipset NT68580 from Novatek Microelectronics Corp. used in the Odyssey Neo G9 to support lossless Display Stream Compression and enable refresh rates of up to 240Hz.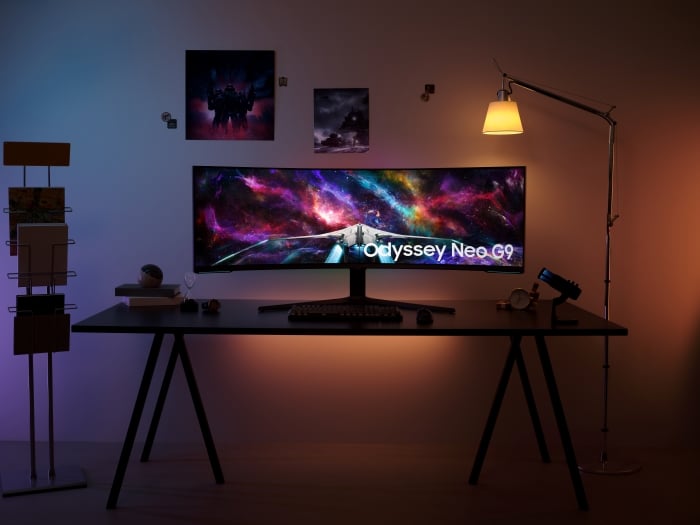 Samsung's new 57-inch Odyssey Neo G9 DP 2.1 monitor (Source: Samsung Electronics)
"It's exciting to partner with GRL and VESA as we launch a new era for the global electronic gaming community with the introduction of a Samsung DisplayPort 2.1 certified monitor," said Hoon Chung, Executive Vice President of Visual Display Business at Samsung Electronics. "This strategic collaboration will unlock new experiences for gamers around the world who are on the lookout for ways to enhance performance and sharpen their competitive edge."
"GRL is proud to continue collaborating with VESA and Samsung as companies recognize and successfully adopt the DisplayPort 2.1 standard," said Holger Kunz, GRL's President of Worldwide Services. "We are pleased that Samsung has chosen to leverage GRL's technical expertise in DisplayPort to ensure that their premier display products meet rigorous compliance and interoperability requirements and capture a larger share of a fast-moving and extremely competitive market."
"For all of our standards including DisplayPort, VESA has invested significant resources in testing and auditing procedures, including interoperability testing of products incorporating VESA specifications. This is to ensure that products that are introduced to the market that claim support of VESA's standards meet the high-quality benchmarks that we have established," said Jim Choate, VESA compliance program manager. "We are happy to work with GRL to support the wider testing and deployment of DisplayPort 2.1 UHBR-certified devices in the marketplace, such as the new Odyssey Neo G9 8K2K monitor from Samsung."
Samsung Electronics Co., Ltd.
Samsung inspires the world and shapes the future with transformative ideas and technologies. The company is redefining the worlds of TVs, smartphones, wearable devices, tablets, digital appliances, network systems and memory, system LSI, foundry, and LED solutions.
For the latest news on Samsung, please visit Samsung Newsroom at https://news.samsung.com/global/
Please email your media inquiry to mktg@graniteriverlabs.com