Granite River Labs, GRL
Kenichi Suganami
The worldwide gaming industry: Entertaining the globe
While smartphones are often thought to be the poster child of the electronic market, a closer look quickly reveals that there's more than meets the eye. Each individual smartphone is capable of storing multiple game files. Considering that there are also consoles such as the Nintendo Switch, PS4/5, and Xbox that are designed exclusively for gaming, the gaming market is one with massive potential for developers of both consoles and devices.
How big is the gaming industry?
The rise of social media and pushback from concerned parents has done little to slow down the gaming industry's meteoric rise. It is estimated that as many as 3.2 billion people are currently playing games in 2023, and that number is projected to increase to 3.8 billion by 2027, nearly half of the world's entire population!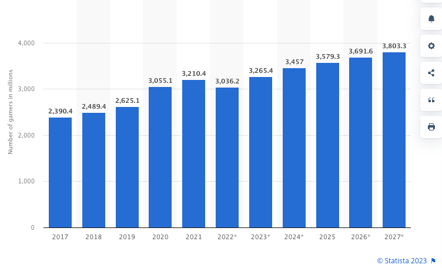 Number of video game users worldwide 2017 to 2027. Source: Statista
Competitive history of the gaming industry
Competition between major gaming platforms such as Nintendo, Sony, and Microsoft was white hot up until 2015. Major players fought hard to have popular game creator companies release games that supported their hardware platforms exclusively. To consumers, the gaming platform's actual performance capability was secondary to whether or not it could support world class "triple-A" titles, so much so that platforms without compatibility with AAA games would almost be destined for obsolescence.
But the stranglehold that AAA titles held over the market started to wane between 2015 to 2020, as the development cost of supporting faster and bigger gaming content to keep up with increasing consumer expectations became overwhelming from an ROI perspective. This was when AAA title developers started to drop single platform exclusivity for cross-platform compatibility instead. Chinese AAA game developers took the lead on developing smartphone titles, which would later be remade for PCs and gaming consoles. This marked a turning point in gaming history, where hardware platforms developers took on their new role as market trend setters.
From 2020, developers of smartphones, hardware platforms, and PCs began working closely with AAA titles to decide on performance specifications on next generation hardware. Cross-platform compatibility once again became one of the largest requests from AAA title developers that are aiming to capture PC (19%), console (29%), and smartphone (45%) sections of the fragmented global games market. Such collaborations also helped keep development workloads manageable while achieving the goal of game accessibility. Hardware platformers were happy to comply with these requests, even if it meant handing back some of the decision making power back to gaming developers.
The COVID-19 impact on dynamics in the gaming industry
2021 and 2022 marked the years when radical shifts were introduced into the average person's lifestyle owing to the impact of COVID-19. Non-gamers started purchasing new PCs and smartphones to liven up life under lockdown. Worldwide adoption of work-from-home models acquainted the masses with concepts of online meetings and online classes.
While technology facilitated the means of connection, people still inherently craved intimacy that could not be replicated within remote settings. Interest in the metaverse therefore started to grow as individuals sought new ways to connect with each other more meaningfully. While mass multiplayer online role playing games (MMORPG) existed long before COVID-19, the metaverse took on a life of its own with an additional social dimension that enabled individuals to express themselves while avoiding risks of health, safety, and privacy that came with meeting strangers in person. In response, AAA titles and big gaming platforms therefore started developing their metaverse framework.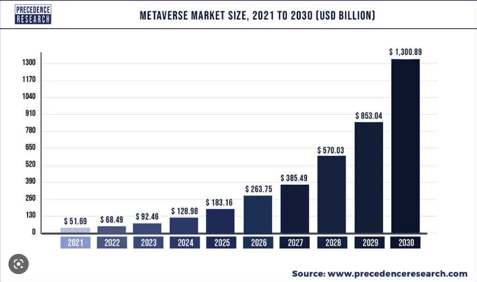 Projected growth of the metaverse market size from 2021 to 2030. Source: Precedence Research
The rise of metaverse platforms
As the metaverse gains widespread recognition, hardware platform suppliers are facing increased pressure to create more user-friendly and immersive experiences to beat out the competition. VR devices such as the Oculus and PlayStation-VR are already offering greater immersion with intuitive joystick interfaces. As a result, developers are tapping into the power of modern technology such as USB3.0 for wired connection and power supply as well as wireless networks such as Bluetooth and WiFi for multi-device connectivity.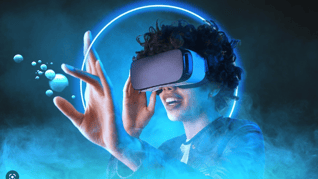 Oculus headset for metaverse gaming
Increasingly, platformers are also shifting from traditional consoles, PCs, and smartphones onto cloud servers to enable ease in scaling, maintenance, and connectivity. Servers are also quintessential for providing high-speed, real-time data transfer capabilities that the metaverse requires. To do so, however, servers will have to upgrade their inter-board connection to PCIe gen5 or gen6 to match up with speed and data bandwidth demands.
The metaverse's wider influence on the gaming ecosystem
Activities that mimic the real world are garnering the greatest demand in the metaverse. This pent up demand led to the creation of the sandbox category, where gaming companies set up digital worlds for users to meet and interact with one another through expressions, competitive or cooperative gaming, and even entrepreneurship.
Sandboxes allow users to interact with one another through expressive avatars
Sandboxes are proving to be some of the most immersive forms of gaming, clocking the same proportion of playtime (12%) as the traditionally popular Adventure genre despite commanding a significantly lower player share (37% vs Adventure's staggering 83%). In an industry where attention is currency, this highlights the massive growth potential of sandbox gaming.
What's next for the gaming industry
As gamers spend more time within virtual spaces, the viability of traditional gaming controllers and joysticks are increasingly being called into question. Wear and tear as well as user strain are problems that platform developers must navigate around, with motion sensors being looked at as a potential solution.
While motion sensors that capture physical actions and reflect them onto digital avatars were initially released by smaller OEMs, this technology is quickly capturing the attention of larger market players. Sony released their proprietary motion sensor in late 2022, not as a peripheral Playstation device, but as an entry point for users to dive into the Metaverse through PCs, smartphones, game consoles, DTV, and so on. This is just one example of how large players in the gaming industry are leveraging established infrastructure with Bluetooth, wireless charging, and USB-PD to leapfrog the competition within the immersive gaming market.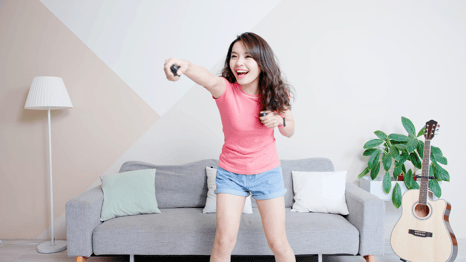 Motion sensors allow gamers to manipulate digital characters according to the movements of their body
Dive into the gaming market with quality testing and certification
With the metaverse capturing intricacies of the real world and transmitting them in real time, higher bandwidth and high speed interfaces will be required to facilitate these new immersive experiences. That's where next generation connectivity and charging technology on both wired and wireless fronts steps in.
Reach out to GRL today and ensure that your products meet the demands of the modern gaming industry.
Author
Kenichi Suganami, General Manager of GRL Japan
Ken oversees the management of GRL Japan's operations as General Manager. He has spent over 11 years at Arm Japan as the Regional Segment Marketing Director covering Automotives, Embedded, Smartphone, Gaming, and Digital Consumer product segments. Working deeply with major Japanese OEMs, particularly in digital consumers, game consoles, and LSI companies, Ken has comprehensive knowledge in Machine Learning, GPU, and CPU-based system architecture for digital consumer products.