HDMI® test overview
Products assessed under the HDMI® test
HDMI® stands for High Definition Multimedia Interface, and is a standard that integrates digital video and audio transmission into singular cables simultaneously. This dual-transmission capability is the reason why HDMI® certified cables are frequently used in TV boxes, stereos, personal computers, DVD players, and screens.
What is the latest HDMI® standard?
HDMI 2.1a is the latest HDMI® technology released by the HDMI Forum in 2022. It provides a minor update known as source-based tone mapping, a technique that enables HDR images to be displayed on screens within lower dynamic ranges while preserving colors, contrast, and details, and redefined the Quick Media Switching (QMS) feature.
Who is the HDMI LA?
The HDMI Licensing Administrator (HDMI LA) is responsible for organizing and promoting activities relating to HDMI® technologies. They are also the agent appointed by the HDMI Forum to license HDMI Specifications, including version 2.1a and older.
Who is the HDMI Forum
HDMI Forum is a non-profit organization formed by world-class manufacturers. The HDMI forum's main task is to develop future versions of HDMI specifications and technologies to create an ecosystem of compatible HDMI devices. Today, the HDMI Forum continues to be responsible for formulating HDMI 2.x certification specifications.
HDMI® product certification categories
The following product types can be certified by HDMI:

Overview of the HDMI 2.1 FRL test
The original HDMI 2.1 was released in 2017 in response to increasing demand for high-quality audio and video applications among consumers. During its inception, HDMI 2.1's additional FRL transmission mode was considered to be revolutionary for signal transmission interfaces.
HDMI 2.1 Test Items Summary
* HDMI 2.1 certification is available for FRL Source, Sink, Connector, and Cat.3 HDMI Cables
<Click to Test Instrument Reference>
Test solutions for each HDMI test item
Electrical Test
Keysight UXR0334A
Tektronix DPO72004C
Keysight M8195A Based Test Platform
Protocol Test
Keysight U4998A
Keysight M8195A Based Test Platform
QuantumData 980
Voltage Test
Keysight E3634A
Advnatest R6240A
HIOKI 3522-50
EDID Test
QuantumData 882
Yokogawa DLM2024
Impedance Test
Tektronix DSA8300
Keysight E5071C
HDCP Test
Disclaimer: HDMI®, HDMI® High-Definition Multimedia Interface, Ultra High-Speed HDMI® Cable Certification Test, and HDMI trademark are registered trademarks of HDMI Licensing Administrator, Inc. This information is provided for convenience only. This information is not and should not be regarded as official information of the HDMI Forum.
For the official information on HDMI®, please visit the website https://www.hdmi.org/, or obtain it directly from the HDMI Forum.
HDMI 2.1 TMDS vs. FRL
HDMI 2.1 has completely replaced its predecessor HDMI 2.0 and can be divided into two modes, FRL and TMDS. The difference between TMDS and FRL modes can be seen in the table below:
How to conduct HDMI test
HDMI certification process overview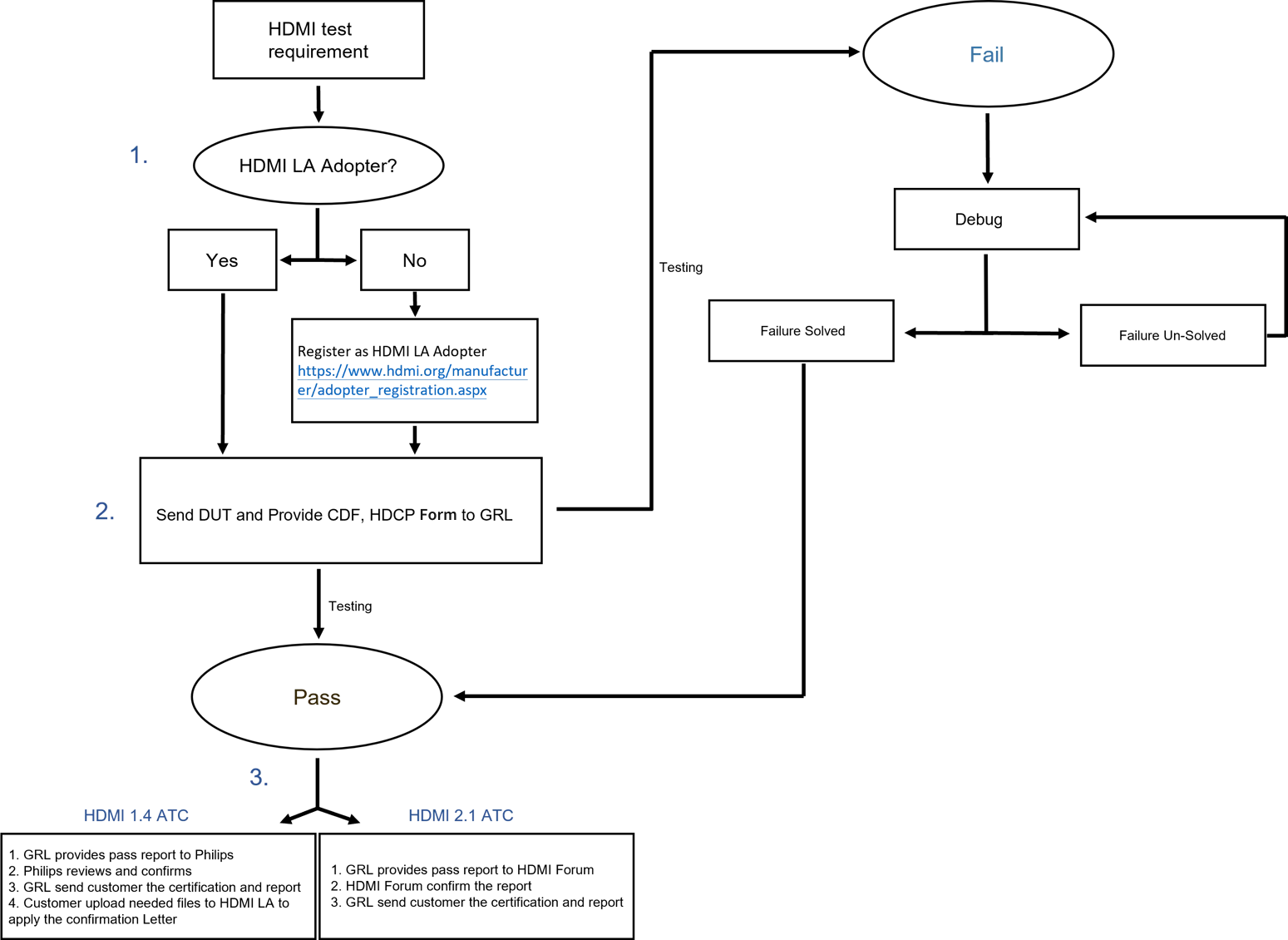 * This flowchart applies to HDMI 1.4 and 2.1 ATC tests only Contact us for details on HDMI Self-test reporting.
Step 1: Become an HDMI LA Member
Organizations can verify their membership status via the official HDMI Membership page.
If not, organizations may apply for membership via the HDMI online portal. Simply assign a contact person to sign the official agreement. Successful applicants will receive a set of ID and password for their membership account once payment has been completed.
Step 2: Submit sample information via the CDF & HDCP Form
CDF (Capability Declaration Form): Records the capabilities of your product, which will be cross-checked during the certification test for consistency. This form is required for testing, and can only be downloaded by HDMI Adopters via HDMI Adopter Extranet.


Family Model list: Family spreadsheets can be found in the CDF form, and should be submitted to GRL before certification. Family Model lists are applicable under the following conditions:

Extended model has no software or hardware changes besides case design and color
HDMI hardware design on extended model remains unchanged as well

HDCP Form: This form is not compulsory for HDMI certification, but has to be filled if your product supports HDCP1.x or 2.x. HDCP forms may be downloaded from the DCP Webpage. (DCP: Digital Content Protection LLC)

Step 3: HDMI 1.4 ATC after certification
Upon receiving the HDMI certificate, companies will have to apply for the HDMI Confirmation Letter via the HDMI Adopter Extranet. You may obtain the confirmation letter through abiding by the following steps:
Log in to your member account and choose the relevant product category from the following options:

HDMI 1.4b / 2.1
Source / Sink / Repeater / Cable / HDMI Premium Cable

The following files need to be uploaded:


Capabilities Declaration - CDF
Test Results Form - TRF
ATC Certificate
HDMI® 2.1a Ultra High-Speed HDMI cable test overview
The Ultra High Speed HDMI® Cable



Under the HDMI® 2.1 specification, cables are now capable of producing higher fresh rates, up to 10K resolutions, and bandwidths of up to 48Gbps. Transmission speeds on all four lanes can reach 12Gbps, which is double that of the HDMI 2.1 TMDS specification that only reaches 6Gbps on 3 channels.
New cable specifications have also been introduced to support HDMI 2.1 FRL product for high bandwidth requirements:
The Ultra High Speed HDMI Cable ensures that high dynamic range uncompressed 8K images that require high-bandwidth transmission can be played normally without disrupting nearby devices with electromagnetic interference.
The Ultra High Speed HDMI Cable is backwards compatible with the lower version of the HDMI specification
HDMI 2.1 cable test items
4.1 FRL Data Lane Parametric Electrical Tests
eARC Data Lane Electrical Tests



DDC/CEC Line Tests



Cable-ID Test

s



Note that HDMI 2.1 Cables must also meet requirements of HDMI 1.4b cables and that connectors must be certified HDMI Category 3 Connectors.
HDMI® 1.4 Cable Test

Premium HDMI® Cable test overview
Premium HDMI Cable
The Premium HDMI® Cable Certification Program covers an additional cable test to ensure that cables comply with the full 18Gbps bandwidth as well as an EMI test to ensure they minimize interference with wireless signals.
The program is widely recognized within consumer markets as proof of quality among new HDMI cables for 4K/UltraHD products that include 4K@60Hz, BT.2020, and HDR features. These newly designed cables are available with both HDMI Type-A and Type-D Connectors.
Premium HDMI Cable test items
General Cable Assembly Tests


HEAC Cable Assembly Tests (Optional)

Additional Electrical Performance Tests



Disclaimer: This information is provided for convenience only. This information is not and should not be regarded as official information of the HDMI Forum.
For the official information on HDMI®, please visit the website https://www.hdmi.org, or obtain it directly from the HDMI Forum.
Trademark: HDMI, the HDMI Logo, and High-Definition Multimedia Interface are trademarks or registered trademarks of HDMI Licensing Administrator, Inc in the United States and /or other countries