SD Test
SD™
A secure Digital Memory Card, abbreviated as SD, is commonly known as a memory card. The SD interface is widely used in portable devices, such as cameras, video recorders, handheld games, mobile phones, laptops, etc. The latest SD specification is SD 8.0, its transmission interface improves to PCIe 4.0 and adopts NVMe 1.4 protocol. It makes SD Express Card can reach 4GB/s transmission speed. The most used specification also is SD 3.01 and SD 4.0.

For more SD related content, please refer to: https://www.sdcard.org/cht/developers/index.html
SD Association
SD Association was founded in 2000 and consists of three corporations Matsushita Electric (Panasonic), SanDisk (San Disk), and Toshiba (Toshiba). The members of the SD Association have about 900 companies participating. They are mainly committed to the formulation of SD specifications and the promotion of their application. For more SD Association-related content, please refer to: https://www.sdcard.org/cht/about_sda/index.html
The Latest Version of the SD Specification
Please refer to different specifications for each SD test item on the SDA official webpage: https://www.sdcard.org/downloads/pls/index.html
Certification Area
SD test can be executed by the product types below.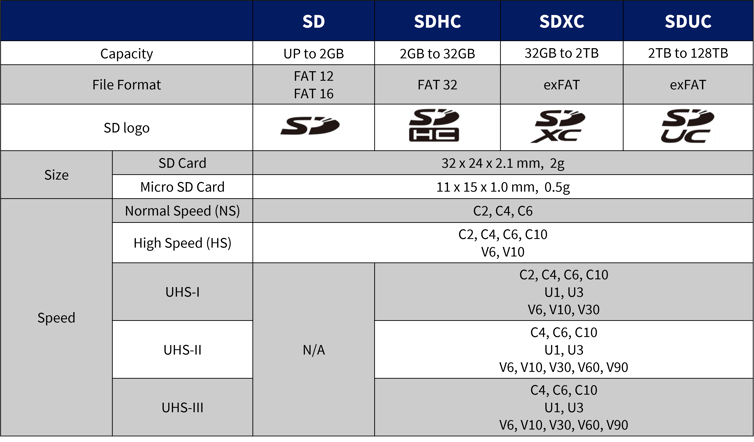 Technical Resource
Application Note: SD 3.0 / 4.0 Overview
Technical Tools
Hardware:
Software:
SD Test Process
SD Test Process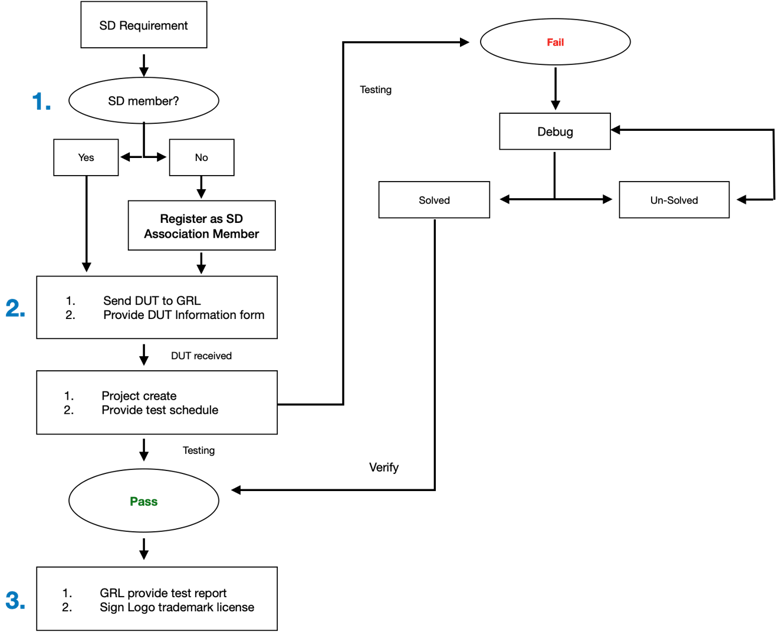 (1) Become a member of the SD Association
Check your membership of SD Association: https://www.sdcard.org/about-sda/member-companies/
If your company is not an SD member yet, please apply for membership: https://members.sdcard.org/kmembership_info/company_membership_types
(2) The types, fees, and rights of SD membership
If your company is still in the R&D stage and needs SD-related specifications, you can prepare the following materials to apply for the Qualification of Temporary Contract (non-member), Email: admin@sd-3c.com
Sign an NDA <Click to find it

>

Application fee: USD 1,000 (if your company becomes a full member within 90 days after signing the NDA, USD 1,000 can fully deduct the membership fee)
* Membership benefits and fees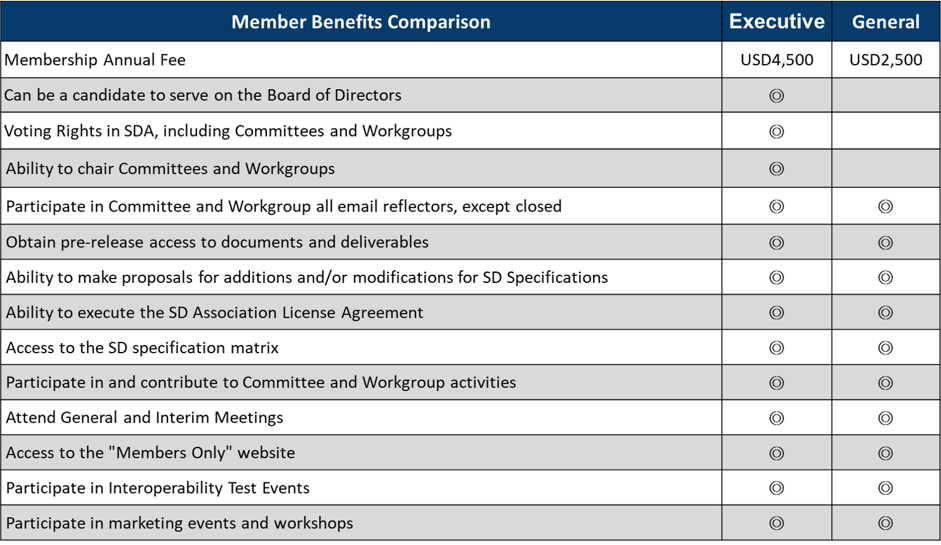 (3) Send samples & product information
Please provide 2 samples for testing

Please provide product information before starting the test.

<Download the Form>
(4) Sign the right to use the Logo
After passing the test, your company needs to sign an SD Association License Agreement to be able to use the series of SD Logos.
Please find the document on SDA official webpage: https://www.sdcard.org/developers/use-and-licensing/
SD Test Items & Instruments Used
GRL offers the following SD tests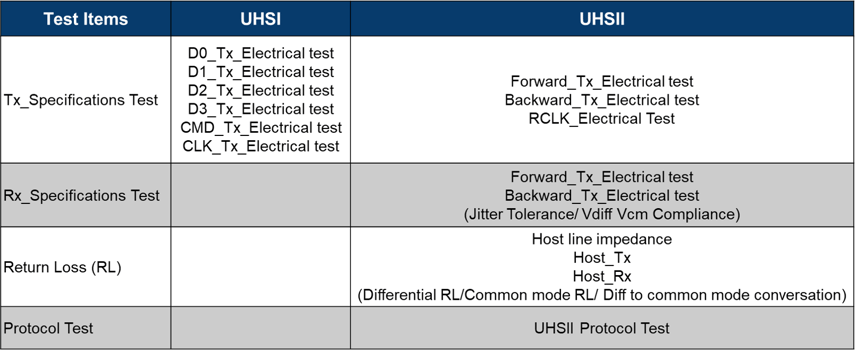 SD Test Equipment
Tx_Specification Test:
Keysight scope DSOV334A 33GHz
Agilent J-BERT N4903B
Rx_Specification Test:
Return Loss Test:
Keysight E5071C
Agilent J-BERT N4903B
Protocol Test:
SD is a trademark of the SD Association.