PCIe Test
PCIe
PCI Express® (Peripheral Component Interconnect Express), abbreviated as PCIe, is a bus specification on the motherboard of a computer. It follows the existing PCI programming concepts and signal standards. The demand for data transmission grows with the continuous advancement of computer processors, memory, and hard disk space.​​​​​​​​​​​​​​​​​​​​​​​​​​​​​​​​​​​​​​​​​​​​​​​​​​​ If you would like to know more about PCIe, please refer to: https://pcisig.com/developers
PCI-SIG
PCI-SIG (Peripheral Component Interconnect Special Interest Group) is an electronic industry consortium responsible for specifying PCIe. The PCI Special Interest Group was established in 1992 as a non-profit organization. Its participating members are experts from more than 700 industries. If you want to know more about PCI-SIG, please refer to: https://pcisig.com/
The latest version of PCIe Specification
The different speeds of PCIe should follow the different specifications. Please find the relative specifications here: https://pcisig.com/specifications
Certification Area
GRL's team has a deep history in PCIe supporting PCI-SIG committees, workshops, and adopters across the ecosystem.
PCIe 5.0, 4.0, and earlier Base (ASIC) and CEM (System) Specification Pre-Compliance & Characterization for ICs, End Point (device), Root Complex (Host/System), Backplanes, and Connectors:
Transmitter & Receiver Electricals & Rx Jitter Margin
Tx Pre-emphasis Level Verification & RefClk Jitter
Return Loss/Insertion Loss
PLL Peaking and Bandwidth
Transaction & Link Layer (PTC)
Configuration Space (CV)
PCIe Protocol Layer Analysis, Debugging & Stress Testing
PCIe Logo Certification is available only at the PCI-SIG workshops. Work with GRL to ensure compliance before you attend the workshop, or debug compliance-related issues.
PCI Express can be tested by the below product types.

PCI Express Test Process
(1) Membership & VID
To obtain the PCI Express certification, you must have a PCI Express VID (Vendor ID) and obtain a website account for product registration.
(2) Test Sample and Product Information
Please provide two sets of test samples.
Product Information: Please fill out the form and provide it to GRL before starting the test, we will refer to the product information to test and use it on the test report. <Click to Download>
* Product speed and the method of entering the test mode are important information, please must provide them before testing. The test will be executed according to it.
(3) Test Report
The PCI Express test report is a Self-test report only.
If your product needs to pass the official certification, please refer to step (4).
(4) Obtained official certification from the association
If PCI Express products need to be certified by PCI-SIG, the certification test needs to be executed in PCI-SIG events. After the product receives a passing result for the certification test, it can be certified.
For PCIe events, please refer to: https://pcisig.com/events
PCI Express Test Items and Instruments Used
PCI Express Test Items

Test Items Introduction

PCIe Electrical Test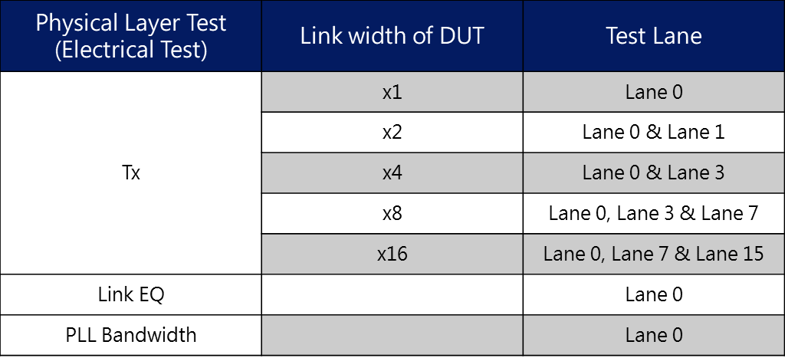 PCI Express is a registered trademark of PCI-SIG