Expands GRL's Suite of USB4™ Electrical Compliance Test Solutions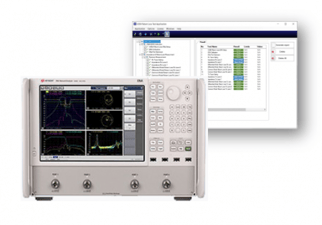 Granite River Labs' (GRL) comprehensive suite of USB4™ electrical compliance test solutions now includes GRL-USB4RL-KS Return Loss and Impedance software automation for the Keysight ENA series vector network analyzers (VNAs), including the popular E5071C.
GRL-USB4RL-KS automates USB4 Transmitter and Receiver Differential and Common Mode Return Loss measurements, as well as USB4 Impedance for debugging reference. It also integrates the USB-IF Electrical Test Tool (ETT) for automated DUT control and maximum efficiency to test USB4 peripherals, hosts and hubs. GRL-USB4RL-KS also supports Thunderbolt™ 3 and Thunderbolt™ 4, which follow the USB4 physical layer test specification.
GRL's USB4 solutions now include four software automation tools that may be purchased separately or together:
GRL's USB4 solutions support testing at 40Gbps and 20Gbps over USB Type-C®, and are compatible with the Wilder Technologies USB4 test fixtures and microcontroller. The software runs on any Windows 7+ PC or directly on the scope for ultimate flexibility. Together, these tools provide a comprehensive, flexible and efficient solution for electrical compliance testing and debugging USB4 designs.
Availability:
For additional information or questions regarding GRL test solutions, including quotes, product demonstrations, software and technical assistance please contact us at info@graniteriverlabs.com.
USB4™, USB Type-C®, USB-C® and USB 2.0 Type-C™ are trademarks of USB Implementers Forum.
Please email your media inquiry to mktg@graniteriverlabs.com