Thunderbolt™ Test
Thunderbolt™ certification test is one of GRL's key services. The GRL laboratory has cooperated with Intel® and Apple since 2011, and in 2012 became the world's first authorized Thunderbolt certification laboratory by Intel and Apple. From Thunderbolt 2 (TBT2), and Thunderbolt 3 (TBT3), to the latest Thunderbolt 4 (TBT4), we have accumulated massive amounts of testing and debugging experience, as well as professional test capacity. GRL performs all tests required for Thunderbolt certification & pre-certification.
Thunderbolt™
Thunderbolt™ is a high-speed interface technology developed by Intel. It uses a USB Type-C® connector, combined with PCI Express, DisplayPort™, and USB Power Delivery. It integrates data, audio, video, and power transmission functions. It transmits speeds up to 40 Gbps and is versatile. There is a wide range of products using the Thunderbolt interface, from desktops, monitors, external graphics cards, external hard drives, and network storage devices. More about Thunderbolt™ technology, visit https://thunderbolttechnology.net/
Intel
Intel is one of the top semiconductor companies in the world, and its well-known invention is the processor. However, Intel's integration capabilities are even more amazing. From chip design and development to manufacturing capabilities, they are internationally renowned in the technology industry.
If you want to know more information about Intel, please refer to Intel's official website: https://www.intel.com.tw/
The latest version of Thunderbolt™ Specification

Thunderbolt™ Interconnect Specification Revision 1.5, Draft 0.8, October 2017
Certification Area

Thunderbolt™ 4 Test
The GRL laboratory is the authorized lab by Intel® to perform TBT 4 certification testing services for Host and Device products. The professional testing team can efficiently assist major factories to complete Electrical Validation (EV) and Functional (FV) tests. project.
Thunderbolt™ 4
Following the Thunderbolt™ 3 technology, Intel launched Thunderbolt™ 4, which is integrated into the new notebook CPU. The Thunderbolt™ 4 technology architecture and the USB4® protocol specification are essentially one family. Both are based on the Thunderbolt™ 3 architecture. Both have a maximum transfer rate of 40Gbps (20G x2) and support Thunderbolt™ 3 and USB4®. The main purpose is to combine multiple protocols into the same channel, including protocol signals such as USB 3.2, DisplayPort, and PCIe, which can be used for simultaneous audio-visual and data transmission through a USB Type-C cable. Also, in the Thunderbolt™ 4 Functional Test Specification, the USB4® device has been added to the test project and related test methods have been updated.

(Source: https://www.usb.org/)
Thunderbolt™ 4 Logo
Currently, only TBT cables are marked with 3 or 4, which represent TBT3 and TBT4 cables. The logo on the USB Type-C interface or the box of the TBT computer (Host) and device (Device) is still indicated with the Thunderbolt icon (without number).

Thunderbolt™ 4 features
One USB-C connector with multi-function:

A single USB Type-C interface can support PCIe, USB3 data, and DisplayPort at the same time

Faster speed:

Support 40Gbps bandwidth

PCIe Gen3 x4 with data transmission up to 32Gbps

Can read high-speed hard disk speed up to 3000MB/s

Support two 4K screens or one 8K screen

TBT4 docking station:

Supports docking stations with up to 4 TBT ports

It can charge the computer up to 100W at the same time

When the computer is connected to the TBT docking station, the computer can be woken up from hibernation by touching the keyboard or mouse

Intel VT-d DMA protection function, which can protect the computer from physical DMA attacks
Compare TBT3, TBT4 and USB4®
The difference between Thunderbolt™ 4 & USB4
Thunderbolt™ 4 and USB4® are functionally complementary and compatible; Thunderbolt™ 4 focuses on PC and their peripheral applications. In addition to PCs, USB4® functions are also used in mobile phones or other embedded USB host systems (Embedded Host) Wait.
The following figure takes a PC as an example and lists the minimum requirements that Thunderbolt™ 4 and USB4® must support.
The most obvious difference is the many functions listed as basic standard in Thunderbolt™ 4, which are only optional in the USB4® specification :
*USB4® products can choose whether to support Thunderbolt Compatible (10.3125G & 20.625G)
Differences in Thunderbolt™ 4 & Thunderbolt™ 3 certification test items
You can see TBT4 is "TBT3 with USB4-supporting".
The following takes the Host's TBT EV test as an example to sort out the different certification test items for TBT4, TBT3 and USB4:
CIO Electrical (High-speed signal, 10G: 10.3124G / 20G: 20.625G): All follow the same

USB4 Electrical CTS test specification

Power Delivery: All must comply with the USB PD 3.1 specification

The main difference is

the

power requirement

. When

Vbus & Vconn are pulled at the same time, it must meet the Vbus & Vconn voltage requirements, as shown in the following table:



*2-Ports Host Power Min. Requirement example



*Device Power Min. Requirement example

Thunderbolt™ 4 Certification Test Items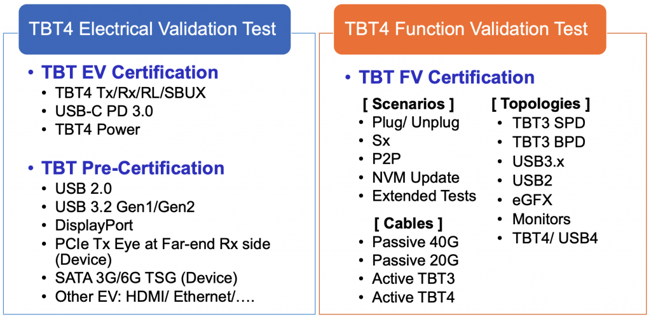 Recently, more and more developers have encountered problems in the TBT FV test, and want to know more about TBT FV test items. To this end, we have made a more detailed introduction to the FV certification test items of TBT4 Host and Device, hoping to help you better understand the test types and purposes of TBT FV. For details, please refer to <Thunderbolt™ Test Items & Instrument>.
Thunderbolt 4 related FAQ
1. Is there a difference between the Electrical Test test items and test specifications of Thunderbolt™ 4 & USB4®?
As far as the electrical test (Electrical Test) is concerned, it is the same. At present, Thunderbolt™ 3, Thunderbolt™ 4 and USB4 electrical tests are conducted in accordance with the same test specification (

USB4 Electrical CTS

).

Thunderbolt™ 4 test needs to include Data Rates 10.0G, 20.0G, 10.3125G, and 20.625G

The USB4 test needs to include Data Rate 10.0G & 20.0G. If the product is compatible with Thunderbolt™ 3, the 10.3125G and 20.625G items need to be tested

In the part of VBus/Vconn power supply, Thunderbolt™ 4 and USB4 have different requirements.
2. In addition to the Electrical Test, what are the differences between Thunderbolt™ 3 & USB4® tests?
The only test item for Thunderbolt™ 4 and USB4 is the Electrical Test. The rest of the test items are slightly different as follows, please follow the product declaration to support Thunderbolt™ 4 or USB4 for certification testing.
Thunderbolt™ 4 certification test

: Electrical + Functional/IOP test

USB4® certification test: Electrical + Functional/IOP + Protocol + Logical Layer + TMU + Tunneling test supported. For the USB4 certification test, please refer to <USB4 Test>.
3. Do USB4® products need to be compatible with TBT3 need to obtain Thunderbolt™ 4 & USB4® certification at the same time?
No need.
USB4 products compatible with Thunderbolt™ 3 only need to obtain USB4 certification in accordance with the requirements of the USB Association. Only need to add Thunderbolt™ 3 related test items.
Thunderbolt™ Certification Process
Thunderbolt™ Certification Process
The Thunderbolt certification process for the Host and Device is slightly different.
Below are the two test processes:
Thunderbolt Host certification process
Thunderbolt Device certification process
Thunderbolt Host certification process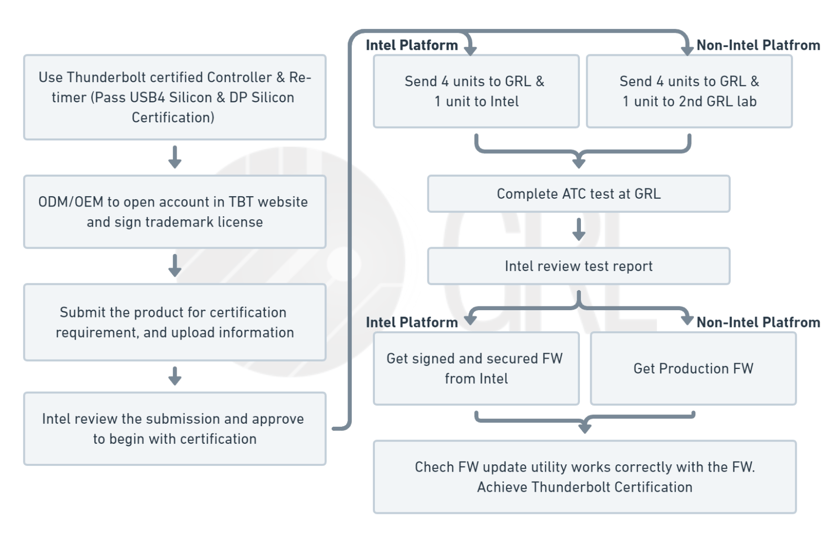 (Click the picture on the TBT website)
– There is FCP (Fast Certification) process for Thunderbolt Host. Please contact us to get more detail.
– There is a subsidy project for Thunderbolt Host. Please contact us to get more detail.
Thunderbolt Device certification process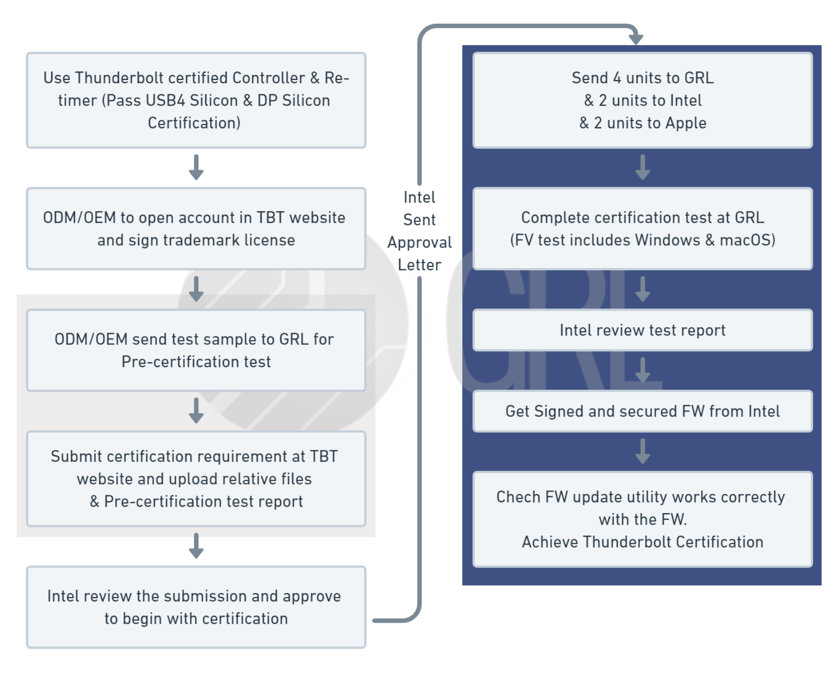 (Click the picture on the TBT website)

– There is FCP (Fast Certification) process for Thunderbolt Devices. Please contact us for more details.

(1) Product Information
Before the test starts, please fill out the following form to provide product basic information to speed up the test process.
– Download:
(2) Test Samples
Please send the samples required for testing to GRL according to the quantity below.
Certification test: Please refer to the above flow chart.
Pre-certification or FCP:

Host: 2~3 sets of samples
Device: 4 sets of samples


(3) The most suitable Preset value
Intel provides a reference preset value with better signal quality to link up. But with different DUT PCB route designs, the signal attenuation is different. It needs to find the optimized preset for the platform. Before testing the Thunderbolt™ Transmitter, GRL will help you find the optimized preset value for your DUT. The customer is required to provide the updated NVM, and subsequent Thunderbolt™ Transmitter tests need to be tested based on this optimized Preset value.
Thunderbolt™ Certification Test Items and Instruments Used
Thunderbolt™ Test Includes Electrical Validation (EV) & Functional Validation (FV)
EV verifies signal integrity
FV verifies product compatibility
Thunderbolt™ EV Certification Test Items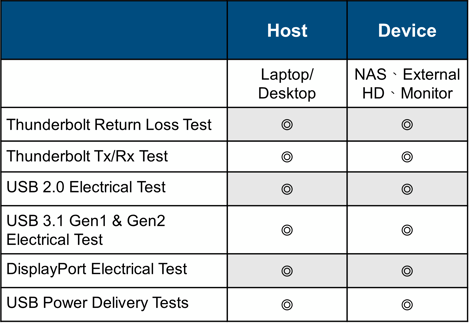 * If your Thunderbolt product supports PCIe, SD Card (UHS-I/UHS-II), SATA 3G/6G TSG, and Ethernet, you must submit the relevant electrical test report (Pre-EV Report) before certification.
Thunderbolt™ FV Certification Test Items
In order to simulate different scenarios that the user normally does, the most important thing for functional verification (FV testing) is to ensure product compatibility and take into the account user experience. Besides the TBT4 system and devices for testing, it is also necessary to test the backward compatibility with TBT3 and tested with various types of interfaces (USB 2.0/USB 3.2 Gen1/USB 3.2 Gen2/DP1.2/DP1.4) and various types of TBT, DisplayPort Cable, and its combination to verify the compatibility.
- Host FV Certification Test Items
The Host FV test can be summarized into the following 6 types:
Basic functions (plug, switch, sleep, Host docking test)
Display function (image, sound, multi-screen display, external graphics card test)
System test (PCIe & DP tunnel transmission, system, and device firmware update, a complex connection of multiple devices, read and write performance test)
Connect expansion port (quick sleep recovery, USB Hub connection device, system charging test)
Device RTD3 test (TBT3/4, USB3 device, and screen RTD3 support test)
Compatibility test (TBT/TBT2 device compatibility test)

- Device FV Certification Test Items


Thunderbolt™ EV Test Instrument

Thunderbolt Return Loss Test:
Thunderbolt Tx/Rx Test:
Keysight DSOV334A

Anritsu MP1800A/MP1900A
USB 2.0 Electrical Test:
USB 3.1 Gen1 & Gen2 Electrical Test:
Keysight DSOV334A 33GHz
Keysight M8020A

Anritsu MP1800A/MP1900A

Tektronix DPO72004C 20 GHz
DisplayPort Electrical Test:
Tektronix BERTScope12500
Tek DPO72004C 20GHz
Artek CLE-1000-A2-V1 Variable ISI Channel
RIGOL DSG815 Signal generator
Keysight M8020A
Keysight DSOV334A 33GHz
Unigraf, DPT-200

Anritsu MP1900A
USB Power Delivery Tests:
GRL USB-PD-C1

GRL USB-PD-C2
Thunderbolt™ FV test instrument
Thunderbolt™ FV test has to use Thunderbolt™ certified products by Intel.
USB4®, USB, USB-C®, USB Type-C®, and USB-IF are registered trademarks of USB Implementers Forum
Intel, Thunderbolt™ 3 and Thunderbolt™ 4 are registered trademarks and R&D products of Intel
Disclaimer
This information is provided for reference only. This information is not and should not be regarded as an official communication of the USB Implementers Forum (USB-IF). The official communication of USB-IF can be obtained from its website usb.org or directly from USB-IF.