What are the IEEE 802.3 Ethernet Test Standards?
An overview of Ethernet technology
Ethernet technology supports signal transmissions between common home and work devices through an interconnected computer area network. Ethernet testing ensures that mobile phones, IoT devices, smart wearables, automotives, desktops, laptops, and servers connected to network routers or switches are fully functional with long cables.
Classified under the IEEE 802.3 specification, Ethernet represents the oldest and most common interface in the market. With demand for data centers growing, Ethernet specifications must also expand beyond the highest specification of 400G transmission speed in order to meet market demand in performance, transmission distance, and interoperability between products.
Refer to the IEEE 802.3 Ethernet Working Group archives for more information: http://www.ieee802.org/3/
What is the IEEE?
The Institute of Electrical and Electronics Engineers (IEEE) is the world's largest professional association dedicated to shaping a more advanced technological landscape for the betterment of humanity. The association comprises distinguished researchers and corporate leaders who develop and formulate new standards in the fields of electrical machinery, technological computing, and information communication.
Visit https://www.ieee.org/ for more information.
Latest Ethernet test specifications
To address rising standards for Ethernet compliance testing and verification, GRL uses comprehensive, integrated tools that comply with the latest Ethernet Test specifications:
IEEE Std 802.3TM-2018 (Revision of IEEE Std 802.3-2015)
SFF-8431 Specifications for Enhanced Small Form Factor Pluggable Module SFP+ Revision 4.1, – Jul. 6, 2009
IEEE 802.32 Ethernet test categories
GRL offers Ethernet testing for host, HUB, switch, and routers. Details on broadcasting, duplexity, and network interface are outlined in the following table: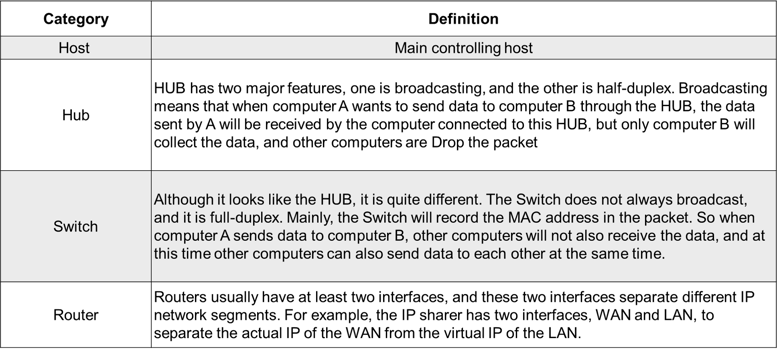 Technical resources
Application Note: Ethernet Introduction
Technical compliance test tools
Software
PAM4 receiver automated test software Tektronix (GRL-PAM4-RXA)
SFP+/QSFP+ receiver automated test software Tektronix BERTScope™ (GRL-SFPP-RX)
What steps are involved in the Ethernet Test Process?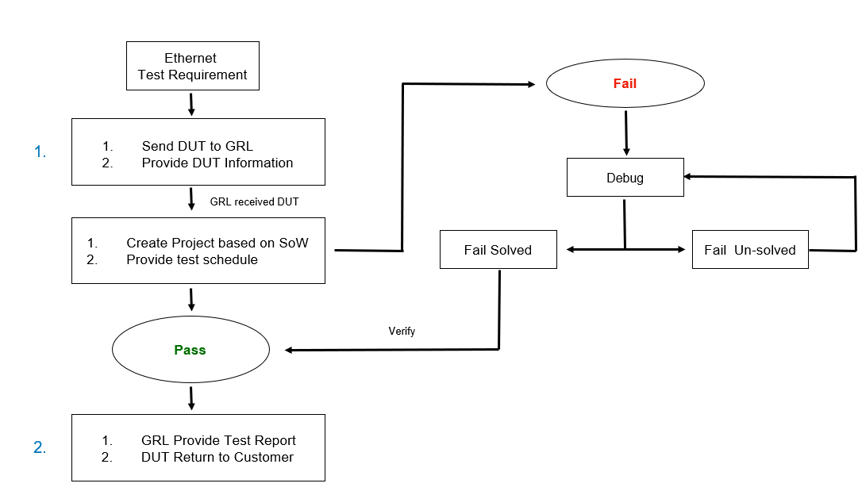 1. Filling the product information form
Kindly fill in the one-page product information form with key details on the product that will be tested before proceedings commence. Do note that product speed and DUT test mode entering method are essential fields that will determine how test parameters will be executed.
2. Completing the self-assessment report
GRL labs will issue an Ethernet self-test report once test proceedings have concluded.
Ethernet test items and instruments
Test items overview
IEEE 802.3 compliance tests for 10, 100, and 1000BASE-T Ethernet physical layers ensure reliable communications over an Ethernet network. Devices under test (DUT) are placed in specified IEEE 802.3 modes before being executed with an oscilloscope that operates a specific Ethernet compliance software test suite.
Note that PHY tuning may be necessary for products over 1000BASE-T depending on their design. Tuning must be executed while measurements are being taken to ensure fixture of appropriate settings such as emphasis, amplitude, and CTLE settings. Unstable behavior or low throughput performance may be caused as a result of poor PHY performance.
10/100/1000 Base-T test items

10G Base-T Test Items

SFP+ & QSFP+ Test Items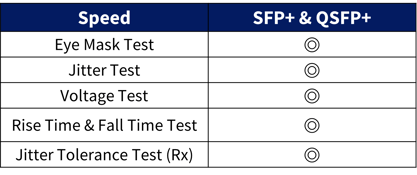 SFP28 & QSFP28 Test Items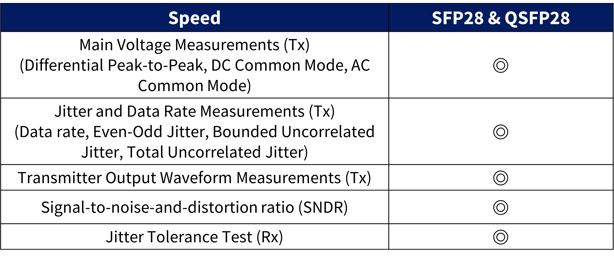 Ethernet test equipment
10/100/1000 Base-T tests:
Keysight DSO9254A 2.5 GHz Oscilloscope
Keysight E5071C ENA
10G Base-T tests:
Keysight DSOV334A33 GHz Oscilloscope
Keysight E5071C ENA
SFP+ & QSFP+ tests:
Keysight DSOV334A33 GHz Oscilloscope
Anritsu MP1900A
SFP28 & QSFP28 tests:
Keysight DSOV334A33 GHz Oscilloscope
Anritsu MP1900A