What are the IEEE 802.3 Ethernet Test Standards?
What is the Ethernet?
Ethernet technology is a family of computer area networks that is a very common interface in home and work environments. It can connect desktops, laptops, and servers to network routers or switches. Ethernet is classified in the IEEE 802.3 specification. It is also the oldest and most commonly used interface in the market. In order to meet market demand, its performance, transmission distance, and interoperability are constantly improving. The current highest specification has reached 400G transmission speed. For more relevant information, please refer to: http://www.ieee802.org/3/
Who is the IEEE?
The Institute of Electrical and Electronics Engineers (IEEE) is the world's largest professional association, whose purpose is to create a more advanced ecological environment for the world. This association gathers and actively develops technological innovation and is committed to voice standard formulation in the fields of electrical machinery, technological computing, and information communication. If you want to know more related information, please refer to: https://www.ieee.org/
Latest Ethernet test specifications
IEEE Std 802.3TM-2018 (Revision of IEEE Std 802.3-2015)
SFF-8431 Specifications for Enhanced Small Form Factor Pluggable Module SFP+ Revision 4.1, – Jul. 6, 2009
IEEE 802.32 Ethernet test categories
We offer Ethernet testing for the product types below.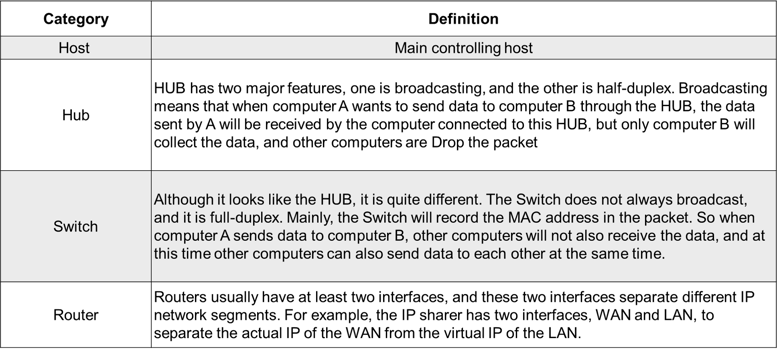 Technical resources
Application Note: Ethernet Introduction
Technical compliance test tools
Software
PAM4 receiver automated test software Tektronix (GRL-PAM4-RXA)
SFP+/QSFP+ receiver automated test software Tektronix BERTScope™ (GRL-SFPP-RX)
What steps are involved in the Ethernet Test Process?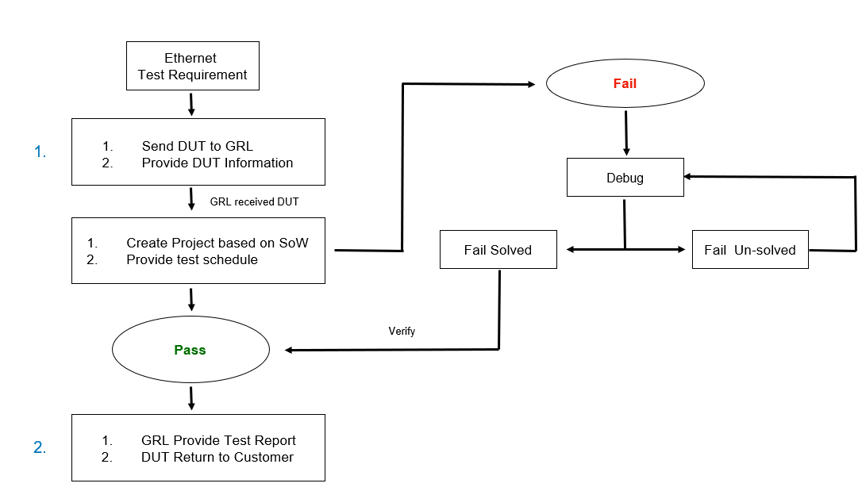 1. Filling the product information form
The product information form will record your product's key information. Please help fill it out before starting the test. <Download the form>
Product speed and the method of entering the test mode are important information and must be provided. The test will be executed according to the content you filled in.
2. Completing the self-assessment report
The Ethernet test report is a self-test report. GRL will provide it after the test is completed.
Ethernet test items and instruments
Test items overview
10/100/1000 Base-T test items

10G Base-T Test Items

SFP+ & QSFP+ Test Items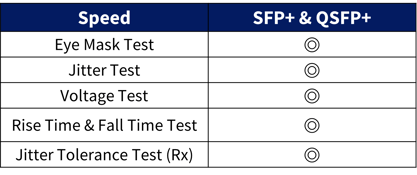 SFP28 & QSFP28 Test Items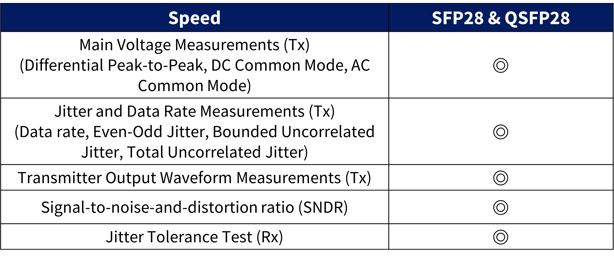 Ethernet test equipment
10/100/1000 Base-T tests:
Keysight DSO9254A 2.5 GHz Oscilloscope
Keysight E5071C ENA
10G Base-T tests:
Keysight DSOV334A33 GHz Oscilloscope
Keysight E5071C ENA
SFP+ & QSFP+ tests:
Keysight DSOV334A33 GHz Oscilloscope
Anritsu MP1900A
SFP28 & QSFP28 tests:
Keysight DSOV334A33 GHz Oscilloscope
Anritsu MP1900A