Why is passing the Thread certification test necessary?

How Thread defines the wireless network technology standard

Proposed by the Thread Group, Thread is a standard verifying that low-power wireless mesh networks are suitable for use in buildings and homes. Based on the 6LoWPAN, Thread integrates specification standards from both IPv6 and IEEE 802.15.4 to ensure that reliability and security standards of data transmission are always improving. Additionally, Thread requires smart home devices to abide by low electricity demand thresholds, allowing users to safely connect over 250 IoT devices to the Thread Mesh network. This number will only continue to grow as technology advances, ushering in a generation of truly limitless connectivity.
As a powerful wireless connectivity technology, Thread covers a wide range of IoT devices. Thread certification is therefore necessary to ensure product compatibility and a seamless, low-latency smart home environment for users to enjoy.
Thread Group's formidable lineup of organizations

Established in 2014, Thread was formed by companies including Samsung, Qualcomm, and NXP with the goal of promoting perfect compatibility and communication across different brands of IoT devices through the development of proper IoT product standards. In 2018, Apple joined Thread Group to promote Thread technology among Apple users. Today, the Thread Group consists of members such as Google, Amazon, and Yale.
Full details on Thread Group's mission and membership can be found on the Official Thread Website.
Thread test specifications
Thread Certification Test Plan: Version 1.1 R2.2.2
Thread Certification Test Plan: Version 1.2 R2
Thread Certification Test Plan: Version 1.3.0 R2
Thread certified product types
GRL provides Thread certification and compliance test services for the following product categories:

Start your Thread certification journey
Guiding you through the pre-testing and Thread testing process from start to finish.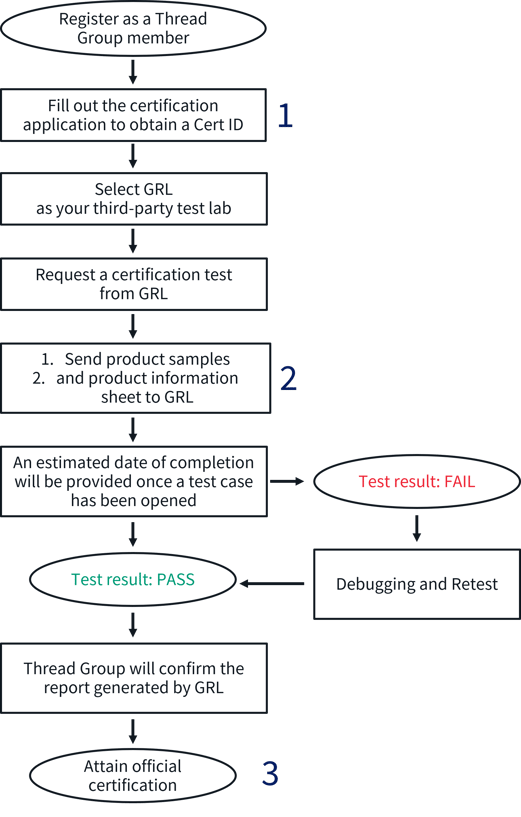 Thread certification step 1: Become a Thread Group member

All companies must be registered as Thread Group members before their products may become Thread certified.
Applications may be made via the Thread website.
Once registered, you may apply for a Cert ID for your product.
Select the type of certification desired (End-product or Component), and proceed to select GRL as a third-party certification test lab.
Thread certification step 2: Provide product sample and information sheet

Kindly assist your assigned GRL administrator to fill in the product information sheet and provide two sets of DUT for quotation and testing.
Feel free to contact us for any queries about the product information sheet or DUT.
Thread certification step 3: Obtain certification
Upon successful completion of the test, GRL will submit your test report to the Thread Group for review. The association will issue an official certification upon confirmation of the test results.
View the full list of Thread certified products.
Note that no further changes should be made to Thread functions once certification has been obtained. Subsequent changes made after certification must be tested again for the product to be officially Thread certified.
Thread Certified test items & test instruments
Thread Certification test items fall into three broad categories

Thread 1.1: Verify the basic functionality of Thread to ensure smooth network establishment and node repair

Thread 1.2: Strengthen network stability while adding low-power mode

Thread 1.3: Further increase of network reliability and support for the Matter protocol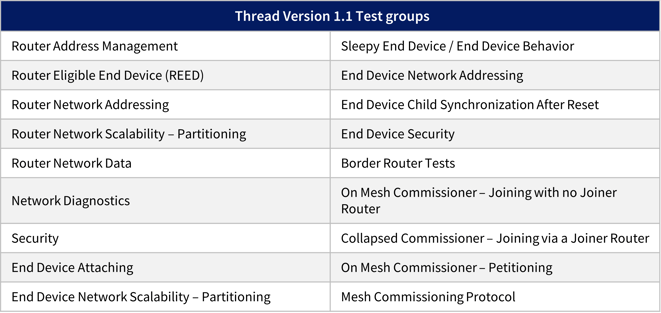 Thread test instruments

Thread Test Harness Software (TH V.58)
Thread Test Bed