Why is Matter testing and CSA certification important?
An overview of Matter standards
Matter is a new IoT ecosystem specification standard initiated by Amazon, Apple, Google, and the Zigbee Alliance. It was later developed by CSA to support interoperability between smart home devices connected by Wi-Fi, Bluetooth, Thread, and Ethernet. Based on the IPv6 protocol, Matter operates on a zero-trust approach to ensure that only authorized users can access and operate smart home devices, protecting consumers from cyberattacks while enabling ease of use within their smart homes.
For more information: https://csa-iot.org/all-solutions/matter

When was the Connectivity Standards Alliance (CSA) established?
The former Zigbee Alliance was officially renamed the Connectivity Standards Alliance (CSA) on May 11, 2021. The organization consists of global businesses that work together to develop, implement, and maintain international standards for the IoT and smart home devices.
For more information: https://csa-iot.org

Latest versions of Matter specification standards
22-27352-001_Matter-1.0-TestPlans-Core.pdf (Updated 28 September 2022)
22-27353-001_Matter-1.0-Application-Clusters-TestPlans.pdf (Updated 28 September 2022, available to CSA members only)
Becoming Matter compliance certified
GRL laboratories conduct Matter compliance for the following product categories:

How to obtain Matter certification
Matter validation test process flowchart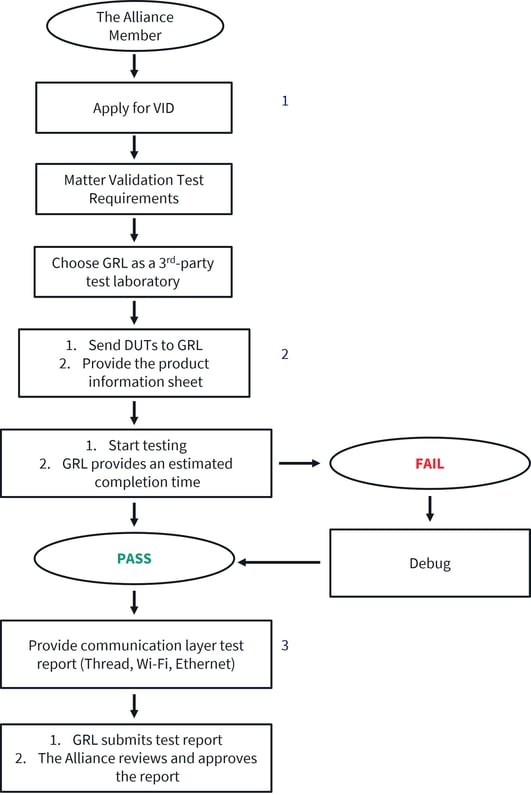 Matter certification step 1: Become a Connectivity Standards Alliance (CSA) member
Prior to obtaining Matter certification, either you or your brand company client must first become a CSA (the Alliance) member by writing to certification@csa-iot.org.
Your application will be confirmed once you obtain a vendor ID (VID).
Matter certification step 2: Submit Device Under Test (DUT) and test documentation
You will need to provide the following documents before Matter certification testing can begin:
Production information form for subsequent quotation and testing

2 sets of DUTs
Feel free to reach out to GRL sales for assistance on form procurement and submission.
Matter certification step 3: Receive testing report results
Once Matter testing has concluded, you will be required to provide certifications that relate to the "communication layer" of your product, such as Ethernet, Wi-Fi, or Thread. The GRL team will submit the required test reports and documents to the Alliance on your behalf.
The following DCP (Dependent Certification Programs) currently supported by Matter certification:
Bluetooth SIG (Special Interest Group) certification program: Bluetooth LE v4.0 or higher for end product types defined by the Bluetooth specification.

Ethernet Conformance: Presents a self-defined / self-testing report of a successful IEEE PMA pass. For information on PMA, see IEEE 802.3-2015 or later (1000Base-T Clause 40, 100BASE-T Clause 22/38, 10Base-T Clause 14 or later)

Wi-Fi Alliance Certification Program: Wi-Fi 4 (802.11n) or later

Thread Organization Certification Program: Thread 1.3.0 or higher



Matter validation test items & instruments in GRL laboratories
Overview of Matter validation test items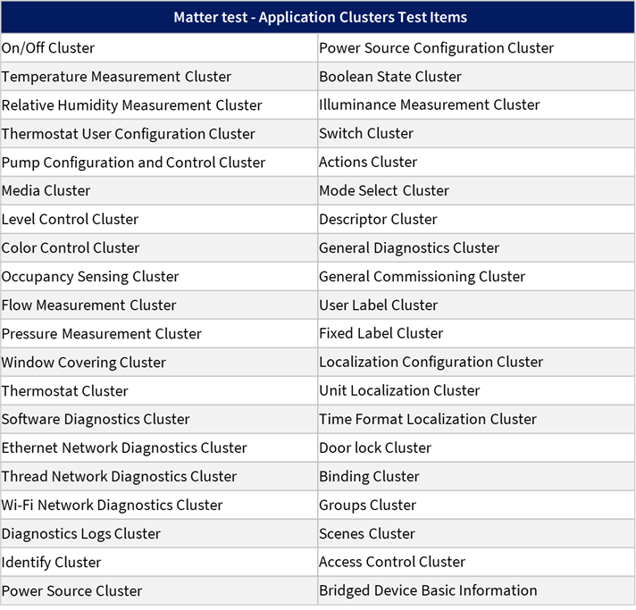 Matter test solutions
Matter Test Harness, developed by GRL (current version v.2.6)