By Elfee Chiang – Marketing, GRL
Introduction
Power Delivery (PD) certification is something of a moving target for technology manufacturers. For example, the USB-IF announced PD 3.1 – the latest update to the specifications and test conditions for certification – in May 2021. A month later it announced the PD Merged Test Specification, along with its intention to end certification testing for 100W USB-C to USB-C Cables.
This document offers a summary of the differences between past and present test specifications (see Table 1 below), to help designers keep up with developments and provide consumers with reliable and interoperable products.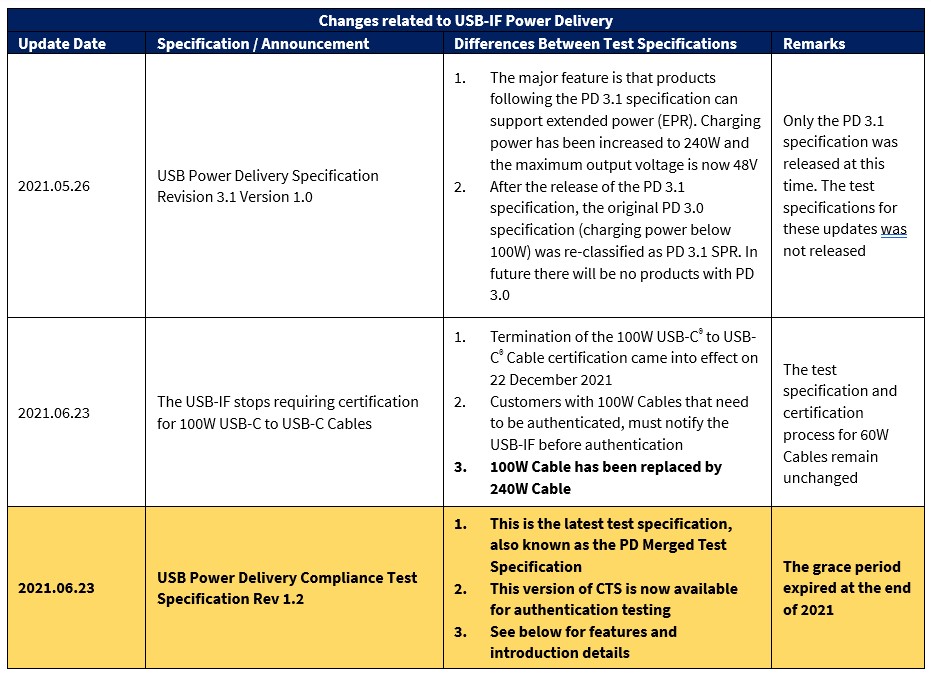 Table 1. Summary of Recent PD Changes From the USB-IF
Major Questions
The release of the PD Merged Test Specification raised a number of major questions, including:
What is the difference from the original CTS?
Does it take effect immediately?
Can we continue to use the old version of CTS for authentication tests?
What should we do if the new version of CTS fails?
Will the test flow will change accordingly?
Major differences
The Merged Test Specification combines three original test specifications: PD 3.0 Test Document, PD 2.0 Communication Engine MOI and PD 2.0 Deterministic MOI.
To verify the EPR Extended Power Specification, partial EPR-related tests, such as verification of VIF and USB PD Protocol, are included in the Merged Test Specification.
There are some changes in the selection of test instruments for testing PD 3.0 and PD 2.0. In the current Merged Test Specification, instruments from two out of four instrument brands (GRL USB-PD-C2, MQP-PDT, Ellisys Explorer 350, and LeCroy Voyager M310P) must be selected for verification (see Table 2 below).

* The Merged Test Specification contains only a partial list of EPR Protocol related test items, so at this stage products supporting EPR can only be pre-tested.
GRL Test Flow vs USB-IF Certification Test Flow
* This flow closed at the end of 2021, when the PD Merged Test Specification grace period expired.
At this stage, if a FAIL item appears after testing with the Merged Test Specification, a user can choose to use the old version of CTS for authentication. If authentication with the old version results in a PASS, it can be uploaded as authentication test data.
* The test data uploaded to the official USB-IF website shall contain at least one test result using the new version of CTS.


At present, both the old and new versions of CTS can be used for authentication testing. GRL has made some minor adjustments in the test flow and will assist users in confirming which version of CTS to use for debugging and subsequent verification before testing (see Figure 1 below).

* Note 1: Test with the new version of CTS first. If the test result is a PASS, then there is no need to test with the old version.
* Note 2: If a test using the new version of CTS results in a FAIL, but the old version produces a PASS, then users have to apply for a waiver specified by the USB-IF.
* Note 3: If the test result using the old version of CTS is a FAIL, then the user should debug according to the old version.
Figure 1. GRL USB PD Test Flow for the PD Merged Test Specification
The above information showcases the significant features and differences after the release of the PD Merged Test Specification. It should be noted that, if there is no special requirement by customers, GRL will give priority to using the GRL-USB-PD-C2 USB Power Delivery and Type-C® Tester and Analyzer for testing because support for the new version of CTS differs by instrument brands.
In addition, although the complete EPR test specification has not yet been released, GRL suggests that IC producers send products for pre-testing at this stage, to verify the EPR Protocol related items in the new version.
If you have any questions about the above content or require more details, please feel free to contact GRL at info@graniteriverlabs.com

About USB-IF
The USB Implementers Forum, Inc. is a non-profit corporation founded by the group of companies that developed the Universal Serial Bus specification. The USB-IF was formed to provide a support organization and forum for the advancement and adoption of Universal Serial Bus technology. The Forum facilitates the development of high-quality compatible USB peripherals (devices), and promotes the benefits of USB and the quality of products that have passed compliance testing.

Author
Elfee Chiang – Marketing, GRL (Taipei)
Specifications and descriptions in this document can be subjected to changes by GRL without prior notice.
USB, USB-C®, USB Type-C® and USB-IF are registered trademarks of the USB Implementers Forum.
Disclaimer
This information is for reference only and should not be regarded as an official communication of the USB Implementers Forum (USB-IF). Official USB-IF announcements can be obtained directly from the USB-IF website at usb.org.