Quick Charge™ Test
Quick Charge™
Quick Charge, abbreviated as QC, is currently the fastest charging solution in the market, with more than 1,000 terminal devices using its technology. This technology can fill up to 50% of the power in 5 minutes. This feature greatly improves the customer's user experience. QC certification content is currently divided into QC 2.0, QC 3.0, QC4, QC4+, and QC 5.0. This technology can be used in products such as chips, mobile power supplies, car chargers, etc.
For more QC technology information, visit the official Qualcomm webpage.
Quick Charge certification development and authorization: Qualcomm
Qualcomm's mission is to use basic technology to change the way the world connects, calculates, and communicates. Through the establishment of certification standards, Qualcomm insists on providing a safe and fast-charging ecosystem to end users. Learn more on the official Qualcomm website.
The latest version of Quick Charge Test Specification
For questions related to the Quick Charge specification, please contact Qualcomm: BrandPortal@qti.qualcomm.com
Certification Area
GRL offers the QC certification test for Source product type only.

Technical Tools
Hardware
Quick Charge™ Certification Process
Quick Charge™ Certification Process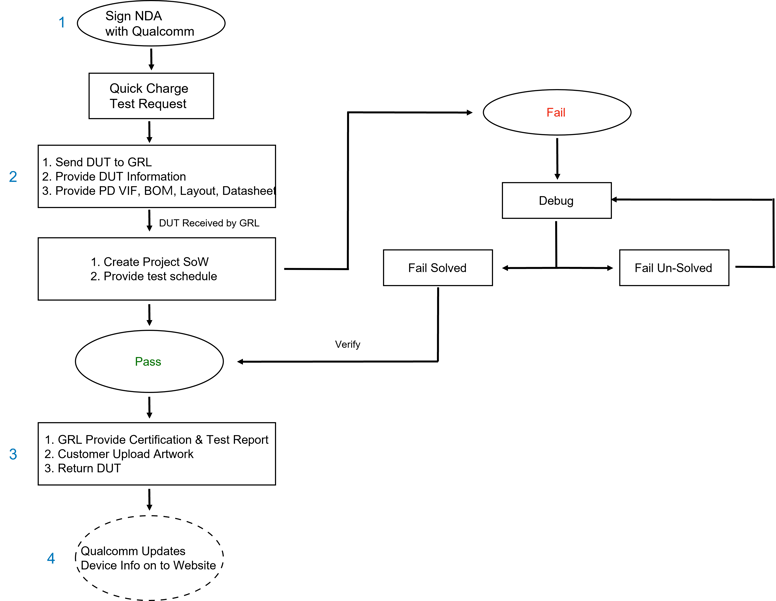 (1) Sign NDA with Qualcomm
If your company has not signed an NDA with Qualcomm, please contact Qualcomm's window: Josh Warner (BrandPortal@qti.qualcomm.com)
(2) Product Information & VIF
Before starting the QC certification test, please prepare two test samples and the following product-related information for GRL:
Product Information Form: It records the information that will be presented on the certificate.

<Download Form by the Product Type>

Vendor Information File (VIF): VIF records the capabilities of your product PD functions. When testing, the testing instrument will need to import this file to compare the actual functions of the product.

If your product specification is QC4, QC4+, or QC5, VIF is necessary.




Searching USB Vendor Info File Generator, the VIF Generator can be downloaded from USB-IF official web pages.

Product Layout Design

Product BOM

Product Specification
(3) Upload the artwork to Qualcomm
After the product has passed the certification test, please upload the product information (chassis, package, etc.) to https://brand.qualcomm.com/.
Any questions, please contact BrandPortal@qti.qualcomm.com.
*Please note: If this step is missing, your product will not be listed on the Qualcomm official website
Quick Charge™ Certification Test Items & Instruments Used
Quick Charge™ Certification Test Items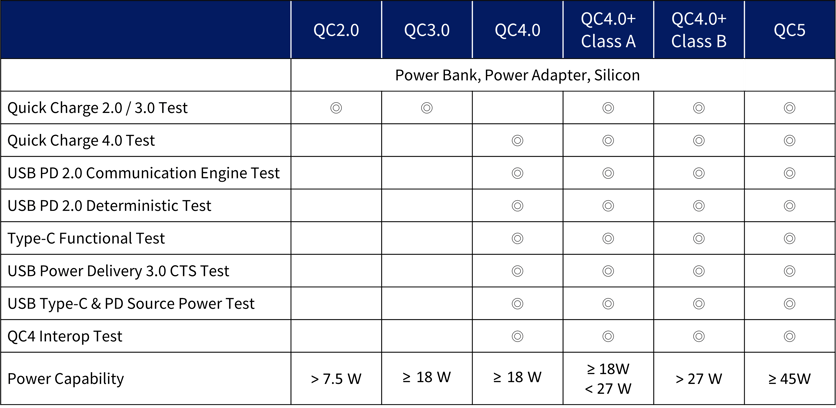 Quick Charge Test Equipment
Qualcomm & Quick Charge™ is a registered trademark of Qualcomm Incorporated.
Qualcomm Quick Charge™ is a product of Qualcomm Technologies.