Join Granite River Labs (GRL) at the PCI-SIG Developers Conference (DevCon) 2022! We are a Gold Sponsor and will be located at Booth 13.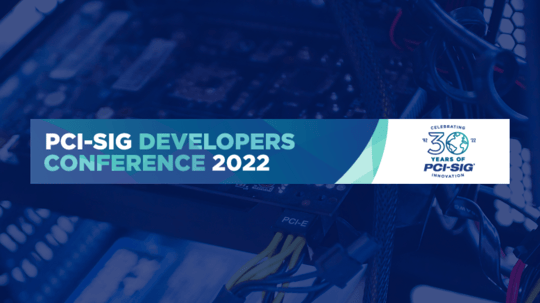 PCI-SIG Developers Conference 2022
Date: June 21 - 22, 2022
Format: Hybrid
Location: Santa Clara Convention Center, Santa Clara, CA and Virtual
Register Here
---
Find out more about
GRL PCI Express® Test Services & Solutions
at PCI-SIG DevCon 2022 at Booth 13 on June 21-22, 2022.

Granite River Labs (GRL) invites you to visit us at Booth 13 (previously Booth 14) at the PCI-SIG Developers Conference 2022 in Santa Clara. GRL is a Gold Sponsor and will demonstrate the latest offering of electrical compliance test automation software solutions, PCIe 5.0 Transmitter, Receiver and PLL Peaking and Loop Bandwidth. With 7 labs worldwide, GRL can help with PCIe 5.0, 4.0, and earlier Base (ASIC) and CEM (System) Specification Pre-Compliance Tests.
More information available on PCI-SIG DevCon 2022 page.
---
Traditional compliance test automation software solutions work exclusively with a narrowly-defined range of test equipment with no flexibility to be used with other platforms. Users rely on test equipment vendors for solutions availability and quality, and must learn multiple software applications to leverage multiple equipment platforms. Also, while test equipment vendors manufacture excellent instrumentation, keeping their test automation software up-to-date with the latest standards is a constant challenge.
GRL's electrical compliance test solutions support Transmitter and Receiver physical layer testing for the latest digital connectivity standards – including PCIe 5.0 technology and earlier, USB4, USB 3.2, DisplayPort, and SAS – on most high-performance oscilloscopes and multiple BERTs. GRL's solutions sharply increase product developers' buying power and ROI by enabling test equipment mix and match and facilitating freedom of choice among test equipment brands. GRL's solutions free product developers to focus on product validating and debugging instead of wrestling with multiple software toolsets, limited budgets, and purchasing red tape.

GRL works closely with leading test equipment vendors and standards organisations to develop robust test tools and methodologies. GRL's roadmap anticipates even more solutions to be released in 2022 and beyond to support PCIe 6.0 specification and other emerging standards.
Read the full press release here.