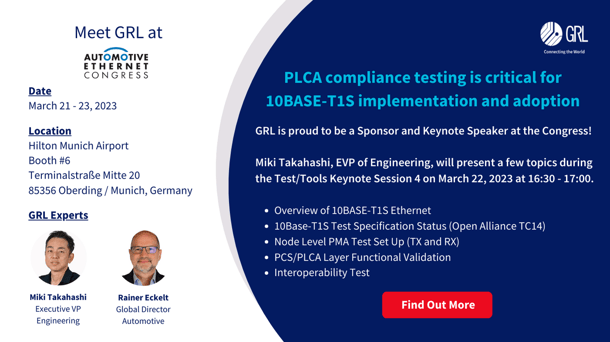 Automotive Ethernet Congress 2023
Date: March 21 - 23, 2023
Location: Hilton Munich Airport, Terminalstraße Mitte 20, 85356 Oberding / Munich, Germany
Booth: #6
Register for the event here
Schedule a 30-minute meeting / demo with GRL team

---
Granite River Labs (GRL) invites you to visit us at Automotive Ethernet Congress 2023 in Munich, Germany.
GRL is proud to be a Sponsor of Automotive Ethernet Congress, which will take place for the ninth time in Munich, Germany on March 21 - 23, 2023.
The conference program, exhibition and workshops will highlight the entire spectrum of topics relating to the use of Ethernet in vehicles
. This event will offer you the opportunity to share and discuss new ideas around the implementation and use of Ethernet in vehicles and in your own projects.
---
| | |
| --- | --- |
| | Miki Takahashi - Executive Vice President of Engineering |
Topic:
PLCA compliance testing is critical for 10BASE-T1S implementation and adoption
Date:
March 22,
2023
Time:
16:30 - 17:00

10BASE-T1S is one of the most recent Automotive Ethernet PHY types standardized within the IEEE 802.3 Working Group, expanding the collection of in-vehicle Ethernet technologies to include the 10 Mbps data rate.
In order to support the multidrop architecture without changing the Ethernet MAC, a new reconciliation sublayer, called PLCA (Physical Layer Collision Avoidance), was developed to coordinate multiple transmitters on the same bus, and ensure collision avoidance while achieving fast transmission rates. The OPEN Alliance TC14 is developing test specifications for the 10BASE-T1S physical layer protocols, including PMA, PCS, and PLCA. The implementation of a test solution for PLCA is of critical importance to verify compliance and to demonstrate the advantages of 10BASE-T1S Ethernet.
---
During the 3-day event, GRL experts will be available at Booth #6 to discuss the latest connectivity test solutions and services for automotive.
More information available on Automotive Ethernet Congress 2023 page.