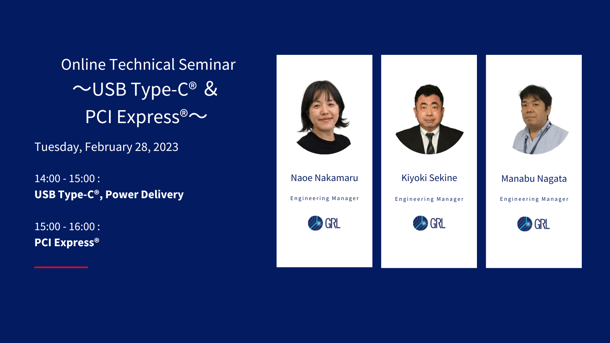 Granite River Labs (GRL) will hold a free online seminar on USB Type-C®, Power Delivery and PCI Express® by an engineering manager from GRL Japan. Please register and watch.
Date:
Tuesday, February 28, 2023 14:00-16:00
14:00-15:00: "USB Type-C®, Power Delivery Free Online Seminar"
15:00-16:00: "PCI Express® Free Online Seminar"
Lecture time:
60 minutes each (including Q&A time)
Participation fee:
Free
Platform used:
Microsoft Teams
You can download the Webinar Recording, PDF Presentation, and FAQ below.USB Type-C® Seminar:
Download
PCI Express® Seminar:
Download
This seminar was held in Japanese.
Please note that we may decline the participation of other companies in the same industry.
---
Title: "USB Type-C ® , Power Delivery Free Online Seminar"
In October 2022, the EU decided to unify the charging terminals of mobile devices to USB Type-C®, and USB Type-C® and USB PD are expected to become more popular in the future. Host and Device sides have the same shape, and there is no front and back. In addition, it has become difficult to pass the certification test in one go, and analysis of Fails has become essential.

In this seminar, we will provide an overview of USB Type-C® and USB PD, explain the VIF necessary for conducting the test, and introduce what kind of events actually occur and are analyzed in the test by featuring fail cases.

We look forward to your participation.
Program:
・Overview of USB Type-C®
・Overview of USB PD
・About VIF
・About USB logo certification test
・Introduction of fail cases

Speaker: Naoe Nakamaru, Engineering Manager
She has deep expertise in testing high-speed digital interfaces, especially USB and USB-PD, and is a certified test engineer for the USB-IF.
---
Title: "PCI-Express® Free Online Seminar"
PCI- Express®, which is used as an internal interface for equipment that processes data in recent years, has seen remarkable increases in data speed and capacity . A typical PC is equipped with a 16-lane CEM connector, and the speed of each of those lanes has been significantly faster, as shown below.
・32Gbps for Gen5 on the latest chipsets,
・64Gbps for Gen6, whose specifications have been finalized and
・128 Gbps for Gen7, which is now under discussion.
It is also used not only as an expansion interface, but also as an interface between LSIs these days, and is positioned as the core of next-generation embedded technology.

This seminar will provide an overview of PCI-Express® and introduce PCI-Express® compliance testing at our company.
We look forward to your participation.

Program :
・Base spec vs. CEM spec
・Definition of components, links and lanes
・Architecture: Topology
・Architecture: Layer structure
Speaker: Kiyoki Sekine, Engineering Manager
Worked as a communication technology engineer at OKI, Lucent Technologies, HMS Industrial Networks, and XXCAL for 29 years, USB (2.0 /3.1 / Power Delivery), RF/DSP (3GPP, WiFi, ZigBee) and Industrial Ethernet expertise. He is also a USB-IF Certified Test Engineer. He holds the qualification of Professional Engineer (Information Engineering) and First Class Land Radio Engineer.
Speaker: Manabu Nagata, Engineering Manager
After 7 years of experience in LSI tester and evaluation work, he engaged in signal integrity evaluation work for high-speed serial signals such as HDMI, SD (UHS-II), and DisplayPort for 10 years at a semiconductor manufacturer. After joining GRL in 2017, he has been involved in consulting, test specification creation, test implementation, and analysis in evaluation tests for high-speed interfaces, mainly PCI-Express, SATA, USB, and DisplayPort.
* Information will be sent by email to those who have registered for the webinar after registration.
If you have any questions regarding this information, please contact us.