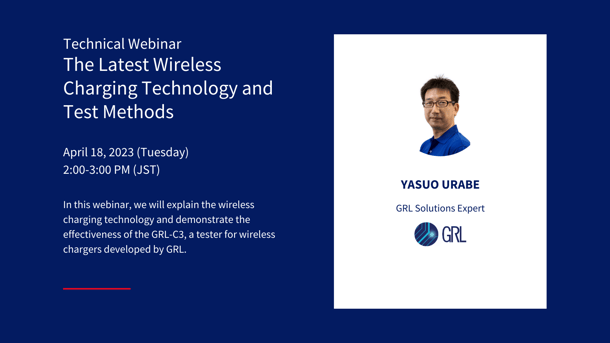 Granite River Labs (GRL) will be holding a free webinar hosted by our Solutions expert at GRL Japan on "The Latest Wireless Charging Technology and Test Methods".
Read on for more information and register below.
Date:

April 18, 2023 (Tuesday)
This seminar was held in Japanese.

Please note that we may not be able to accept participation from competitors in the same industry.
---
The Latest Wireless Charging Technology and Testing Methods
In January 2023, the Wireless Power Consortium (WPC) announced the latest specification for wireless charging technology, called Magnetic Power Profile (MPP). WPC has previously established the specifications for Base Power Profile (BPP) and Extended Power Profile (EPP), accelerating the proliferation of wireless charging technology, particularly in the latest smartphones.

In this webinar, we will explain the wireless charging technology and demonstrate the effectiveness of the GRL-C3, a tester for wireless chargers developed by GRL.

We look forward to your participation.

Program:

Overview and necessity of Qi® testing
BPP and EPP
Overview of MPP specification
Introduction of GRL-C3
Development tips using GRL-C3
Q&A
Speaker: Yasuo Urabe, GRL Solutions Expert

After registering, information about the webinar will be sent via email.
If you have any questions, please contact us.
Register Now