Intel Display Ecosystem® Validation Program test items & specifications
Display Optics Test
The Display Optical Test item is used to evaluate panel characteristics such as brightness, color gamut, and contrast so as to ensure that a satisfactory user experience can be delivered. Results from the Display Optical Test item can assist OEMs and panel vendors by providing actionable suggestions to the mechanical design process.
Low Power Display Measurement
The Low Power Display Measurement test item ensures that laptop and other similar devices have maximum display performance standards that meet specification requirements for low power consumption as defined by Intel®. System integrators in this test item help inform OEMs and panel vendors of measurement results that should be integrated into their products.
For full details on the Display Optics Test and Low Power Display Technology Test, please visit the official Intel® specifications page.
Test process of Intel Display Ecosystem® Validation Program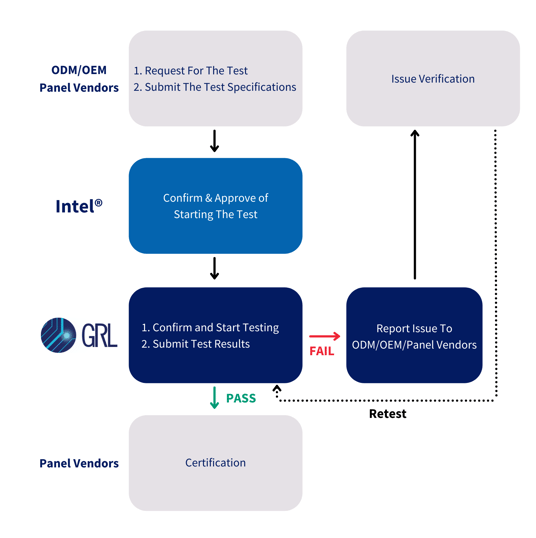 Flow chart of Intel Display Ecosystem® Validation Program test process
ODM, OEM, and panel vendor participants of the Intel Display Ecosystem® Validation Program will undergo the following steps on their way to becoming certified:
Interested parties will submit a request to be tested under the program to Intel® along with specifications of their product that align with test requirements.

Intel will notify successful applicants that they've been approved for testing.

GRL will analyze submitted display panel products according to the test items and specifications outlined above.

Participants will be awarded with a Display Ecosystem for Intel® Platform Certificate of Compliance once all test items have been successfully cleared. If not, issues will be flagged to the respective ODM, OEM, or panel vendor participants for further troubleshooting.
Compliant Panel List
The Compliant Panel List shows all products that are compliant with the specifications of the Display Optics Test. This includes all laptop and PC brands as well as ODMs and OEMs that are eligible to distribute qualified display panel references. If you are interested in this program and would like to contribute to the display validation ecosystem, please contact GRL for more details.