The program enables the global PC industry to find and use qualified displays that are compliant with Intel's specification. Through this program, GRL provides Display Optics Testing on embedded displays for Intel Platforms. Once the display panels pass all test criteria, the certified panels are listed for public reference, granting convenient and transparent information for companies and end users looking for compliant display panels for their products.
Display Optics Test
The goal of the Display Optics Test is to verify that all key factors relative to display brightness and color gamut meet the required test criteria, ensuring a satisfactory user experience.
Test Items and Specification
For more information on the Display Optics Test and Low Power Display Technology Test, please visit the specifications page.
Test Flow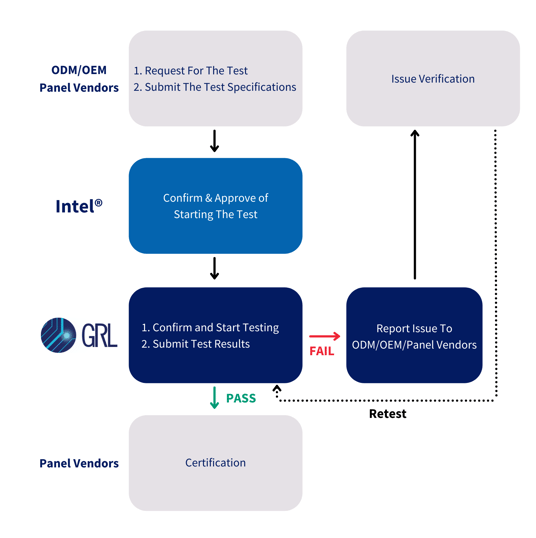 Compliant Panel List
A Compliant Panel List will show the products that are compliant with specifications of the Display Optics Test, where all laptop PC brands, ODM, and OEM, could have a qualified display panel reference. If you are interested in this program and would like to contribute to the display ecosystem validation, please contact GRL for details.