Join us for a complimentary half-day seminar on MultiGig Automotive Ethernet Seminar in Detroit & Milpitas (Silicon Valley)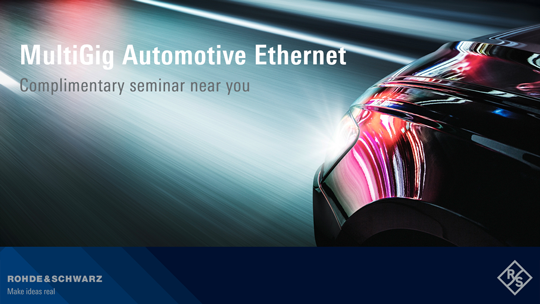 Detroit
Date: Tuesday, April 19th, 2022
Time: 9:00am - 1:30pm ET
Location: Hilton Garden Inn Detroit- Southfield
26000 American Drive Southfield, Michigan 48034
Register Here
Milpitas (Silicon Valley)
Date: Thursday, April 21st, 2022
Time: 9:00am - 1:30pm PT
Location: Embassy Suites Milpitas Silicon Valley
901 E Calaveras Blvd, Milpitas, CA 95035
Register Here
---
Granite River Labs will be partnering with Rohde & Schwarz for the seminar
Come join us for a half-day seminar where Rohde & Schwarz experts will cover MultiGig Automotive Ethernet. Granite River Labs expert will give presentation as their technology partner.

Automotive Ethernet is expected to become the de-facto communication for in-vehicle networks. With the introduction of 2.5/5/10GBASE-T1 speed grades, more and more applications are becoming available to us to enhance user experiences through infotainment and autonomous driving.


During this seminar, we will review examples of these advancements including radar sensors and 5G telematic units using automotive Ethernet as the communication link. In addition, we will explain how the in-vehicle networks will evolve over the next 10 years with new platform developments that include concepts like domain and zonal controller architecture. We will also discuss testing challenges that arise with these new architectures including latency measurements and interoperability.
---
Course Agenda

9:00 AM - 9:30 AM


• Registration



9:30 AM - 10:45 AM


• Evolution of automotive ethernet from 100Base-T1 to MGBase-T1
• MGBase-T1 electrical interface characteristics
• Clause 149 PMA electrical tests:
- Droop, PSD, peak amplitude
-Jitter
-Linearity/distortion
• Measurement example



10:45 AM - 11:15 AM


• Provide a brief overview of the requirements for MultiGig Link Segments
• Discuss the testing requirements and challenges with a Vector Network Analyzer
• Discuss fixturing and de-embedding of test fixtures for successful testing



11:15 AM - 12:30 PM


Presentations from technology partners



12:30 PM - 1:30 PM


Complimentary networking lunch