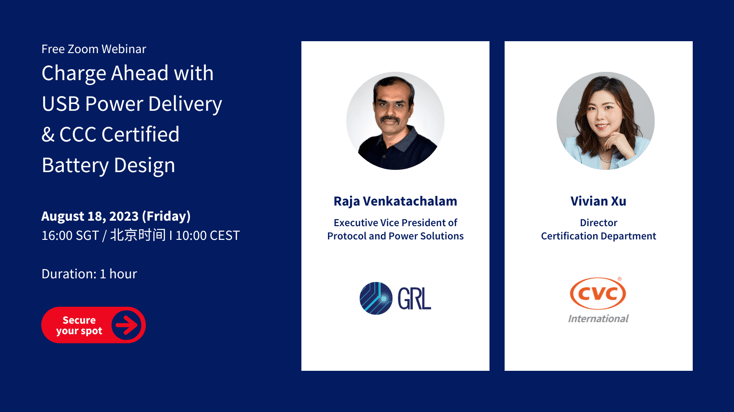 Date: Aug 18, 2023 (Friday)
Time: 16:00 SGT / 北京时间 I 10:00 CEST


Speaker
Raja Venkatachalam - Executive Vice President of Protocol and Power Solutions, Granite River Labs.
An industry stalwart, Raja has spent over 22 years developing validation methodologies and developing electrical and protocol compliance testing tools.
Vivian Xu - Director of Certification Division, CVC International. Vivan has researched regulation and certification of electrical products across the Gulf and Middle Eastern regions for over 15 years.
---
Catch up on the design of lithium-ion batteries, battery packs, and portable power banks that not only comply with the latest regulations but will also be well-received by end-users worldwide.
The global lithium-ion battery market has experienced significant growth in recent years. According to a report by Grand View Research, the market was valued at $44.2 billion in 2020 and is expected to reach $107.0 billion by 2027. To understand requirements involved in batteries and battery packs, we have arranged a collaborated session with CVC to discuss the significance of design and power delivery as per the Latest CCC and USB Standards.
What you will learn:
Take full advantage of USB technology

Stay up to date on the latest USB Power Delivery (PD) updates

Meet customer demand by incorporating USB PD into battery charging applications

Discover the most time- and cost-effective way to conduct USB Compliance testing

Learn to safely conduct USB PD Functional Safety Testing for power products above 100W

Discover the CCC certification advantage for battery and power bank design

Navigate the certification process efficiently by mastering regulation checks and timelines

Abide by implementation rules to a T and meet compliance standards effortlessly

Understand exactly what you're paying for with a clear breakdown of application processes and fees





Q&A
Note: If you are unable to join either session, you may still sign up via the form below to obtain a recording once the webinar ends.