What is the Avnu Alliance Certification?
Who is the AVNU Alliance?
The Avnu Alliance is a community that consists of over 95% of players within the Ethernet silicon suppliers market, as well as prominent leaders in the fields of networking infrastructure space, automotives, and audio-visual markets. Their goal is to create an interoperable ecosystem servicing the precise timing and low latency requirements of diverse applications using open certification standards.
Overview of the Avnu Alliance Certification
The Avnu Alliance certification was created as part of efforts to build a certified networking ecosystem where Audio Video Bridging (AVB) and Time Synchronized Networking (TSN) standards are built into, rather than around, the Ethernet. Through an integrated ecosystem, the Avnu Alliance seeks to reduce total cost of network ownership by minimizing deployment and maintenance time through real-time synchronization, bandwidth reservation, and traffic shaping.
What is AVB and TSN?
As an evolution of standard Ethernet, AVB represents the set of technical standards developed by the IEEE 802.1 Audio Video Bridging Task Group and adds capabilities to the Ethernet network through three major enhancements:
Precise timing for accurate synchronization of multiple streams and low-jitter media clock support.

A simplified reservation protocol that enables endpoint device applications to notify network elements so that specific streams can be supported through resource reservation.

Queuing and forwarding rules to ensure precise stream delay as specified by the reservation.
TSN is the successor of the former IEEE 802.1 Task Group and builds upon AVB specifications to include a wider range of functionalities and applications within the standard. All TSN applications are backwards compatible with AVB and are accompanied by added fault tolerance and redundancy, as well as further improvements in time sensitivity scheduling and latency control.
Both AVB and TSN standards complement existing specifications and represent a synchronization and bandwidth layer upgrade for time critical applications in wireless and wired networks.
Avnu certification test process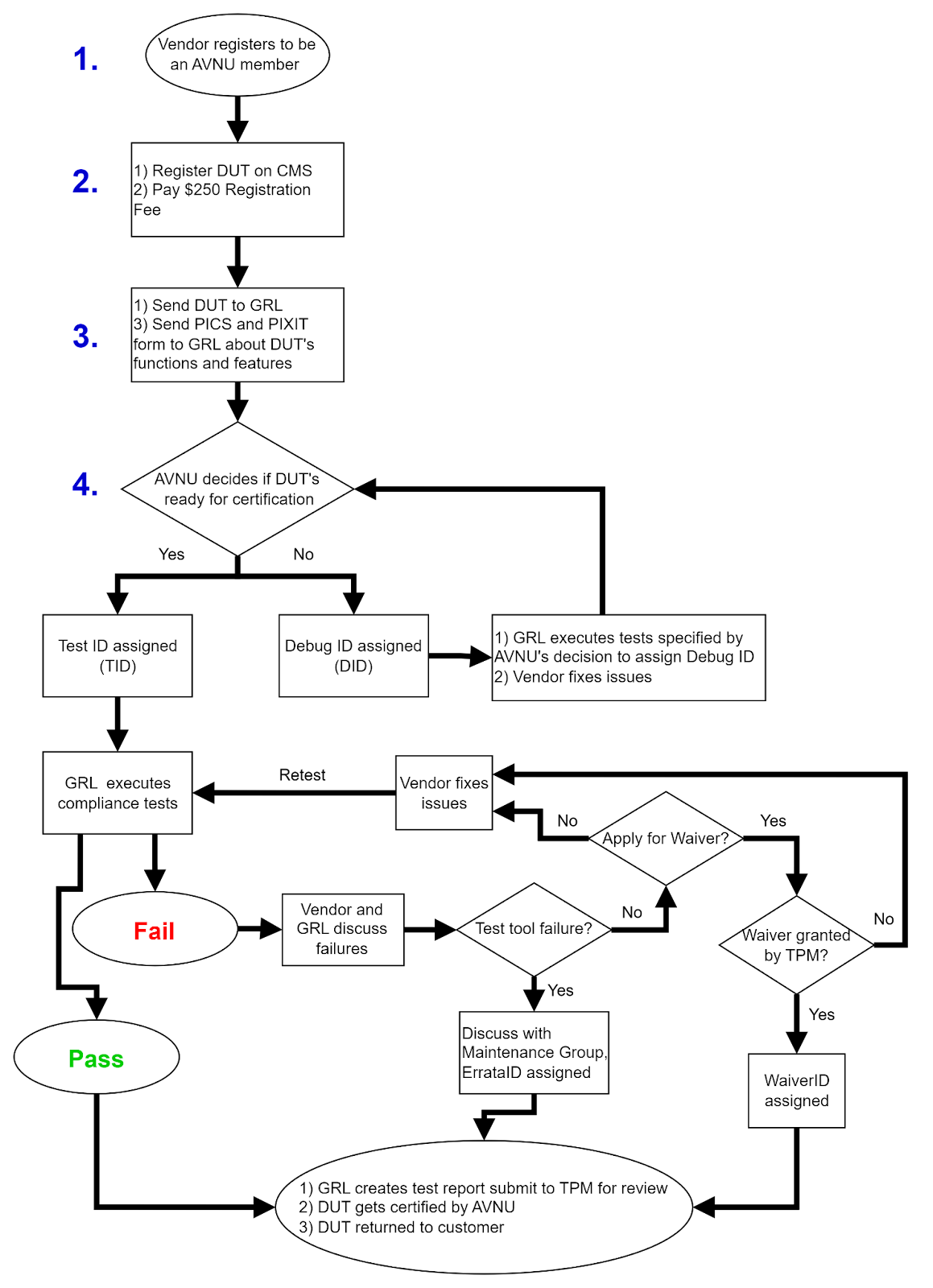 Step 1: Register for Avnu Alliance membership
Only Avnu Alliance members are eligible to participate in Avnu certification tests. Documents necessary for membership registration may be found here.
Step 2: Register product with Avnu Alliance
Register product with Avnu Alliance using the Certification Management System (CMS). Upon approval of the above and confirmation of member's status, Avnu's Technical Program Manager (TPM) will inform the applicant and the Recognized Test Facility (RTF) of the applicant's choice about the product's assigned TestID (TID), test versions, CRSL version, and other information.
A $250 USD registration fee per product and derivative product Avnu Product Registration fee will be payable to Avnu Admin.
Step 3: Make payment
The following items must be supplied by the applicant before testing can begin:
A test sample

PICS Form, aka a DUT Config File

Information for DUT operation such as checking the FW version, MAC address, resetting to factory default, changing AVDECC configurations, and setting redundancy mode.
Step 4: Receive test certification results
After testing is complete, RTF issues a preliminary test report(s) to the applicant. In the event of failure, the applicant will be notified of the reasons why. From there, the applicant and RTF are to collaborate and determine whether the product needs to be fixed. Working with the RTF and Avnu TPM, the applicant will fix the product and submit it for retest according to steps outlined in the certification process flowchart.
Alternatively, the RTF may determine that a failure may be waived. Under such circumstances, the applicant will have to submit a result waiver for processing later.
If the device passes, the RTF will generate a certification report which will be reviewed by the applicant and Avnu TPM. A certification of conformance is granted to the product and the CertificationID (CID) is issued upon TPM approval.
Avnu Alliance validation test items and solutions
Milan Advanced Standard Certification Test Plans provided by GRL include:
Milan End Station Validation Test Plan v1.04

Milan Bridged End Station Validation Test Plan v1.02



Milan Advanced Standard Certification Test Items

Milan End Station

AVB Basic Functionality

Discovery

Static Entity Model Enumeration

Dynamic Entity Model Enumeration

Persistence

Notifications

Connection Management - Talker's Side

Connection Management - Listener's Side

Stream Formats (Base Audio and Media Clock

Media Clocking

Redundancy

System-Level Validation

Milan Bridged End Station

gPTP Basic Functionality

MSRP Basic Functionality

FQTSS Basic Functionality

ProAV Bridge Interoperability Tests

ProAV Bridged End Station Interoperability Tests
You may also save time and cost by applying for AVNU's Milan quick certification program, subject to the approval of your respective TPM.
Milan Advanced Standard Certification Test Solutions provided by GRL:
Avnu Express Testing Suite: A new low-cost test tool developed by AVNU for Milan testing that saves time by allowing members to test their products internally for conformance before sending for certification. Development of implementation test plans for the TSN Certification Program are in motion.

vIOLett Test Tool: A test tool developed for certifying bridge/switch devices intended for general, infrastructure, and IT/OT use, as well as automotive bridge and end stations.