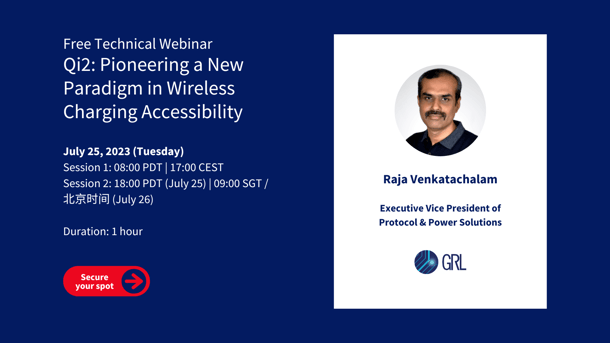 Date: July 25, 2023 (Tuesday)
Session 1: 08:00 PDT | 17:00 CEST
Session 2: 18:00 PDT | 09:00 SGT / 北京时间 (July 26)
Speaker
Raja Venkatachalam - Executive Vice President of Protocol and Power Solutions, Granite River Labs

An industry stalwart, Raja has spent over 22 years developing validation methodologies and developing electrical and protocol compliance testing tools.
---
Catch up on Qi2 and the wireless charging ecosystem:
Witness unparalleled convenience & efficiency from MPP.
Forecasted to exceed USD 71 billion in value by 2030, wireless charging devices are touted to be the next big thing in consumer electronics. Manufacturers looking for a glimpse into the pinnacle of Qi2 wireless charging standards and its evolutionary history won't want to miss out on this tell-all webinar.
Delve deeper into wireless charging test automation processes as we unveil never-before-seen convenience, precision, compatibility, and speeds.
What you will learn:
Qi2 Design and Testing Challenges

How do MPP standards differ from the previous BPP and EPP?
How have Qi test requirements evolved over the years?
What's new in Qi2?

Compliance testing & certification

Step-by-step introduction of testing and certification processes under the latest Qi standard
Benefits of obtaining Qi2 certification

Q&A
Note: If you are unable to join either session, you may still sign up via the form below to obtain a recording once the webinar ends.