Granite River Labs, GRL
Lucy Chang
The quality of high-resolution displays has multiplied manifold in recent years. With the release of HDMI 2.1 FRL, image resolution has taken a significant leap from 4k@60Hz to 8k@60Hz, along with an increase in the HDMI transmission bandwidth from 18Gbps to 48Gbps.
Exciting as this news is, manufacturers and distributors are faced with the uphill task of keeping up with said technology — especially if they wish to win the coveted first mover's advantage. Not only do display cards and monitors require upgrades on both hardware and software fronts, but demands for signal transmission loss in HDMI cables have also gone up in response to higher bandwidth signals.
To address this, the HDMI Association has released a Category 3 cable test specification that carries up to 48Gbps, the Ultra High-Speed cable (UHS cable). This article will provide a comprehensive overview of the technical development and challenges of testing HDMI 2.1 UHS cables.
Passive UHS copper cables & active optical HDMI cables
Currently, most of the UHS cables available on the market are passive cables. Passive cables are also known as wire cables and are largely made of copper wire. Such cables follow the manufacturing technology of Category 2 cables, the process of which has been refined to maturity and thus can be conducted consistently at low cost.
However, the major disadvantage of copper wires lies in their shorter cable length and wider diameter, which leads to higher signal loss of high-speed signals that limit their use to general household needs. But with the advent of higher-quality image output technology by well-known graphics card brands supporting the booming TV and gaming monitor industry, consumers are now enjoying and demanding greater audio-visual experiences.
As such, major manufacturers have applied fiber optic technology to HDMI cables to develop longer, thinner, and lower-loss cables that meet various multimedia playback requirements. These efforts have led to the development of active optical HDMI cables (AOC HDMI cables) that add optoelectronic conversion components on both sides of the cable to transmit HDMI signals without loss.
AOC HDMI cables can be further subdivided into semi-optical fiber and full-optical fiber categories. Semi-optical fiber cables use only four pairs of high-speed signal pairs with fiber, while the remaining low-speed pins use normal copper wire. Full-optical fiber cables on the other hand use fiber to transmit signals for all pins, but the HDMI Association has not yet developed a testing program for full-optical fiber cables.
HDMI 2.1 UHS cable test items and examples
The HDMI Association has developed two types of cables for testing: wire cables and active cables, the latter which covers two additional types:
Copper active cables
Semi-optical cables
However, the HDMI Association has yet to develop a measurement plan for the aforementioned full optical fiber cable. This means that manufacturers cannot yet obtain HDMI 2.1 UHS cable certification for this cable category. The main reason for its exclusion is that the eARC test method in the test items uses a network analyzer to measure impedance, insertion loss, skew, and other test items, which are not applicable to full optical fiber cables.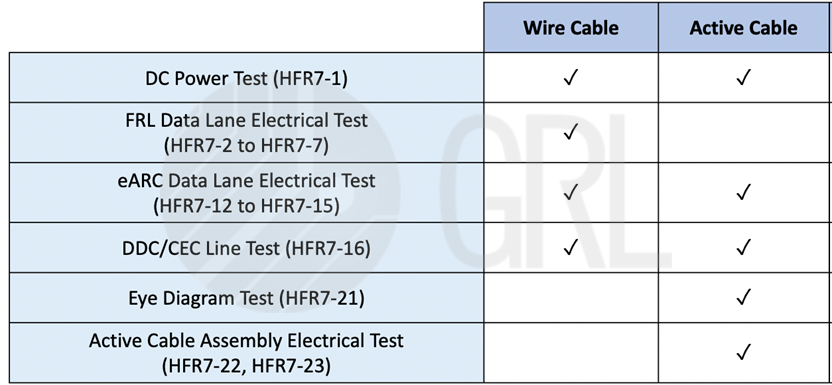 Table 1: UHS cable test items
Having assisted many manufacturers in complying with HDMI 2.1 UHS cable testing specification, here are some of the most common testing issues that manufacturers encounter in our test labs, or when deploying our HDMI 2.1 solutions.
1. HFR7-1 DC power test: Power on and off Sink
The HFR7-1 DC Power Test is divided into two test conditions and often proves to be one of the most challenging test items for manufacturers. To conduct the test, simulate connecting the cable to a screen in both powered off and powered on states. Then, apply voltage to the +5V pin on the Source end and ensure that the voltage measurement on the Sink end is not lower than 4.7V.
Power Off Sink

(as shown in Figure 1)
Power On Sink

(as shown in Figure 2)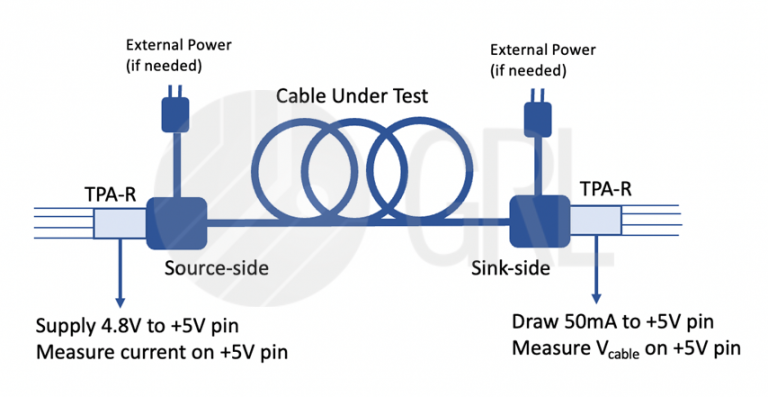 Figure 1: Power Off Sink test setup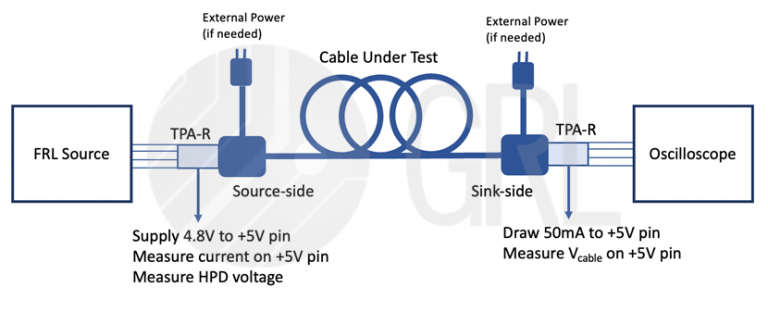 Figure 2: Power On Sink test setup
In addition, the current drawn by the cable at the Source end must not exceed 55mA. As shown in Figure 2, during the Power On Sink test, the cable's current carrying capacity and voltage drop under normal use are tested. Active cables with IC chips require additional power to activate the IC chip, which can easily cause the current to exceed 55mA. Adding a USB external power supply to the cable can remedy this problem by providing sufficient power.
For active cables with a USB external power supply, both Power Off Sink and Power On Sink tests without external USB power supply must be performed in the HFR7-1 test content.
According to the HDMI 2.1 UHS cable testing specification, test results under the condition of not connecting external power supply in Power Off Sink are for reference only. The reason is that in the Power Off Sink scenario, Source and Sink are not turned on, and cables will not receive HPD detection and signals from both ends under practical circumstances.
However, the Power On Sink test without connecting an external power supply must be passed to ensure that both devices are in the activated state and prevent the cable from drawing too much current and causing damage.

Figure 3: HFR7-1 test items
For the low-speed signal tests, the capacitance of the DDC and CEC channels must not exceed 700 pF. This is to ensure that the passed low-speed signals are not affected by the high capacitance of the cable, which could cause signal quality issues and device misjudgments. Capacitance values tend to increase with cable length, connector design, and wire connection design.
2. HFR7-21 eye diagram test
The HFR7-21 eye diagram test is critical for measuring the quality of FRL standard signals transmitted through the tested cable to the receiver end. It is a necessary test for active cables because compared to traditional TMDS signals, FRL signals have significantly higher bandwidth and face greater transmission loss.
Therefore, an 8-stage Continuous Time Linear Equalizer (CTLE) is added to the receiver end of HFR7-21 to compensate for this. In practical applications, the Source and Sink will Link Train to an optimized CTLE. As long as one stage's CTLE value can pass the test, it is considered acceptable. Figures 4 and 5 show the test results for different CTLE values. Based on the result of the eye diagram, customers can adjust the Active IC component's Equalizer accordingly to meet the required standards.

Figure 4: Eye diagram for CTLE = Level 1 dB

Figure 5: Eye diagram for CTLE = Level 3 dB
3. HDMI AVcc voltage
Another common problem faced during active cable testing is the HDMI AVcc voltage value of the high-speed signal. This refers to the HDMI Single-Ended Termination Voltage, which tests whether the cable can transmit the AVcc provided by the Sink to the Source when connecting to a general device. If the voltage is too low, the Source may wrongly determine that the Sink is not in the activated state, causing the signal to fail to output. If this test fails, subsequent eye and skew tests cannot be performed. The drive capability of the chips used in active cables and the transmission loss may affect this test item.
After passing all HDMI 2.1 UHS cable test items, the cable must also pass Electromagnetic Interference (EMI) testing to comply with HDMI 2.1 UHS cable specification, which ensures that the cable can maintain high-quality transmission in real electromagnetic wave environments.
HDMI 2.1 UHS cable testing specification is only the beginning
Demand for high-resolution HDMI quality via HDMI 2.1 UHS cable testing specification accelerated development in cable design and production. Nevertheless, this progress has been accompanied by design challenges and limitations in the testing specifications. The HDMI Association is currently deliberating on specification revisions that can account for the wide myriad of cable designs both present and future, which will no doubt grow more numerous as the industry continues to evolve.
Get tested by HDMI cable experts at GRL
Ensure your HDMI products meet industry standards with HDMI compliance, pre-compliance, and debugging services from GRL, an HDMI Forum Authorized Test Center (ATC). Testing with us means gaining unrestricted access to a comprehensive range of HDMI test services, including HDMI 2.1 FRL, HDMI 2.1 TMDS, HDMI 1.4b, and HDCP 1.2 & 2.2 for sources, sinks, repeaters, and cables, as well as deep insider expertise from members of the HDMI Forum. Download the GRL HDMI presentation deck and get up to speed with the latest industry standards in electrical compliance, protocol compliance, and interoperability.
Reference
HDMISpecification2.1-94919-0215192500

gcts_21c_cables_restated-94919-1117202220
Author
Lucy Chang, Technical Engineer, GRL Taiwan

Graduated from the Department of Chemical Materials, National Central University. 4 years of HDMI testing experience, familiar with HDMI, HDMI2.1 FRL, HDCP and other technical testing. GRL technical article author and lecturer.
Specifications and descriptions in this document are subject to change without prior notice.
Release Date 2021/10/21 AN-211021-TW